How to Link Aadhaar with Mobile Number: Well, In these days, if you see the government has taken a stern decision in order to link aadhar to a mobile number. Every citizen must and should follow that!!! As it is the order passed by the Supreme court. This is all done to eliminate or secure from the formation of fake or duplicate documents respectively.
Before getting into further details, adding a mobile number or an email id to the respective Aadhar card must be done at the initial stage only. It means, when you have taken an initiative for applying for an Aadhar card, do not forget to register with your mobile number or the email id respectively.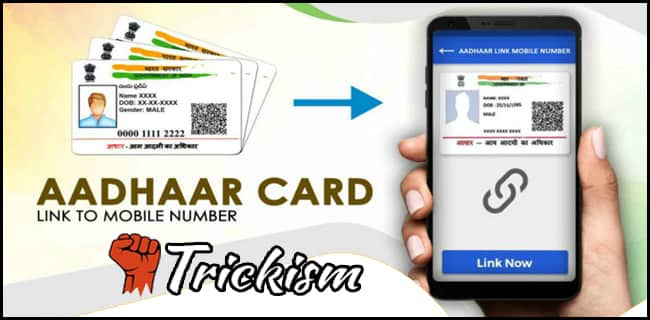 If you fail to do so also, not an issue. Simply by moving into the nearby permanent Aadhar card center,  you can do it without any fail. Here we have come with the process to link aadhaar with a mobile number in a clear and better understandable format. All it is easy and no single penny is charged. Simply follow that and make changes accordingly.
How to Link Aadhaar With Mobile Number Online
There are several methods that greatly help to link aadhar with number online as well as offline with simple steps. Here we have come with step by step process that greatly help all the citizens to do so without facing any kind of trouble.
How to Link Aadhaar with Mobile Number Online using OTP
Is Aadhar link to mobile number through IVRS [Interactive Voice Response System ] is possible?
Link Aadhaar with Mobile Number Offline Right Now.
These are the three possible ways where one can easily make the aadhar link to mobile successfully. For any doubts or like to learn about the process, bit more simpler, drop a comment in the below section. We make you understand all the points provided here. Now, It is the time to learn each and every step underwent for making changes respectively.
How to Link Aadhaar with Mobile Number Online using OTP
This is as simple as that!!! Follow the simple steps provided below in order to link aadhar to mobile respectively. This is all done online with the help of an OTP generated when the process is undergone.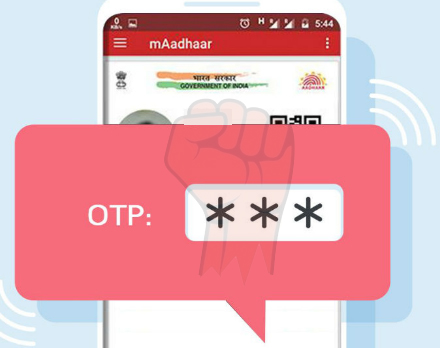 Go to the online portal, which is an official site available for all the updations to be carried out.
Enter the respective mobile number for the successful aadhar link to mobile process.
Now, the telecom operator by taking the citizen's request into consideration will send an OTP to the registered mobile number respectively.
As a result, enter the OTP and perform a single click on the submit button for continuing the whole process.
Once it is done, one can see a consent message displaying on the screen. Now, it is the time to enter the respective 12-digit aadhar card number carefully without any fail.
Make sure the aadhar number you provided was correct.
The telecom company by seeing that will generate an OTP and send for the further on-going process.
Crosscheck all such details twice or trice.
Accept all the terms and conditions by simply providing the generated OTP as an input.
Once the whole process is done, the receiver receives a confirmation message.
That's all!!!!!
Link Aadhaar with Mobile Number in Simple Steps
Follow the below instructions carefully in order to make an aadhar link to mobile number and implement accordingly.

First and foremost, dial 14546* on your mobile phone.
You have to pick up either Indian or an NRI. Listen carefully to the computer-generated points and follow accordingly.
Press 1 if you like to re-verify the respective aadhar card.
Now it is the time to enter a 12-digit aadhar number.
Therefore, confirm it by again pressing 1 respectively.
Doing so, an OTP is generated and sent to the respective registered mobile.
Enable the consent for accessing or verifying all your name, photo, DOB respectively.
The IVR (Interactive Voice Response) reads all the last 4-digit of your mobile number.
If it is correct, the user is held responsible to enter a received OTP on the specific field.
Later on, tap 1 to complete the whole process.
How to Link Aadhar with Mobile Number Offline in Simple Steps
This is an offline method comparatively. One can proceed with this especially if the user comes along with the respective co-ordinator's user print. Only, in that case, changes can be done if any. There are a lot of permanent enrollment centers. As a result, follow the below step by step process and go according to the instructions provided below.
Pick the nearby aadhar center and step-in.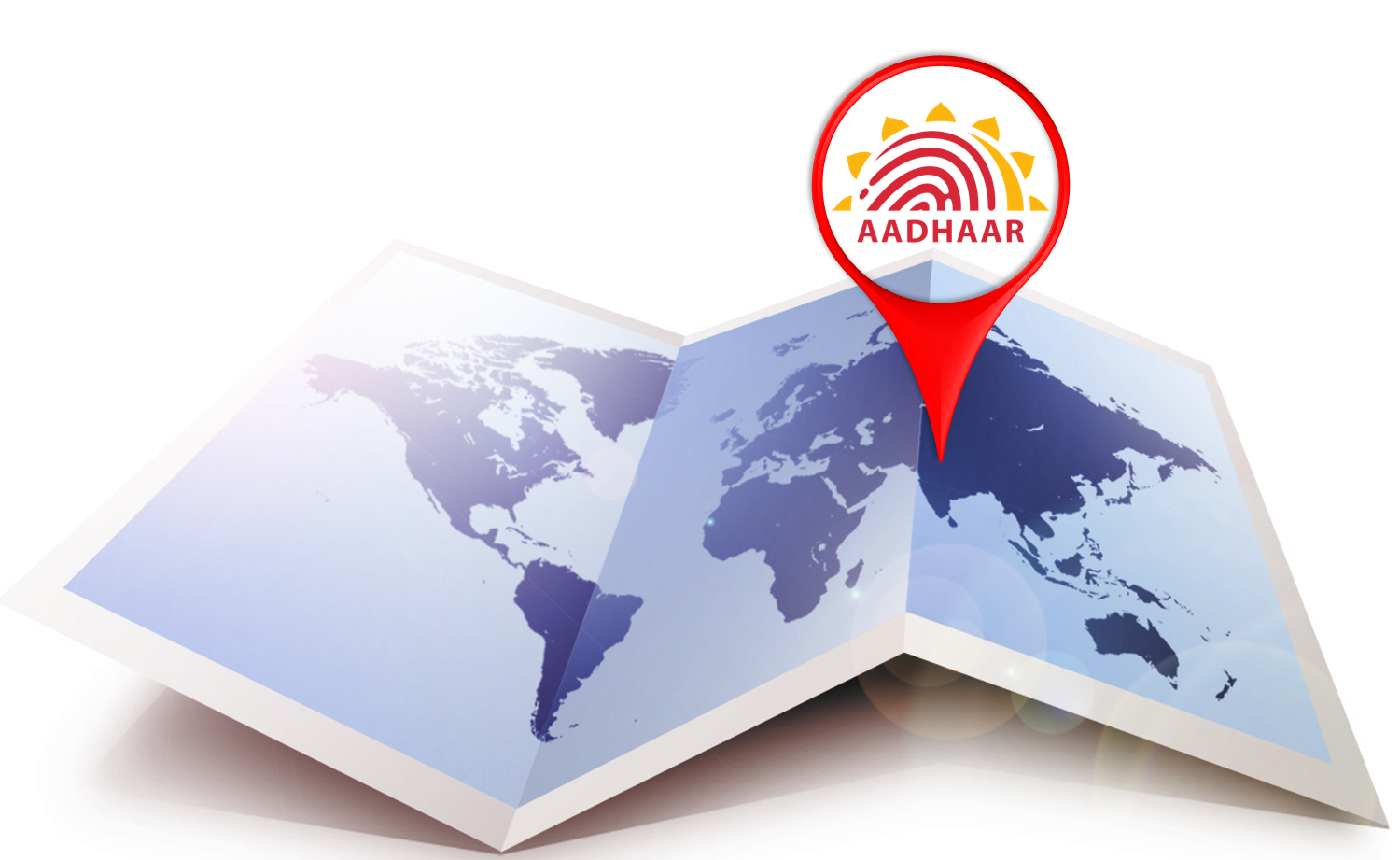 Explain then what exactly you like to change.
And then take the respective aadhar enrollment/correction form for filling up all your details. The information you provide must be genuine and correct. As the aadhar card is none other than considered as one of the person's identity, every single word must be correct accordingly.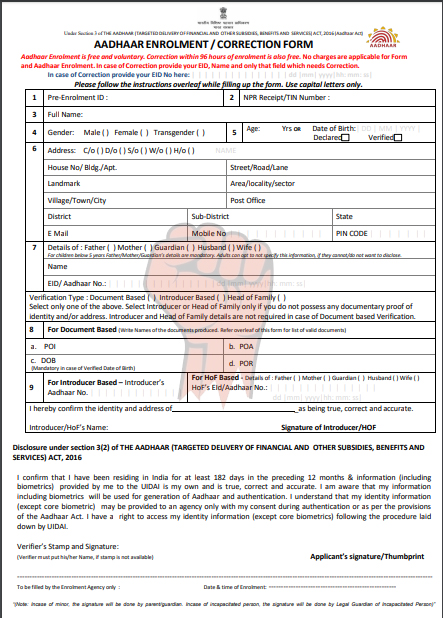 Now the fields like NPR number, Name, DOB/ Age, Address, relationship, documents, Introducer were involved in it. Fill accordingly.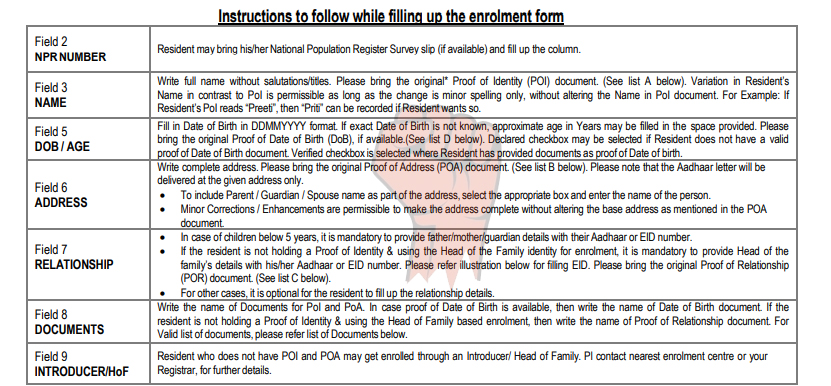 Once after filling all the details, cross-verify whether you have given correct or might go wrong somewhere. Also, check twice or trice related to the aadhar card number that was filled on the form.
If right, irrespective of an attribute change, go with the list of documents provided below to the respective operator.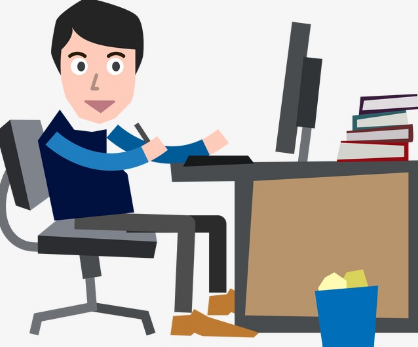 And then the respective operator asks you to put on the thumb impression or biometrics. Doing so will check the previous one whether it has matched in a perfect way or not.
If yes, the officer provides an acknowledgment slip. Therefore, the change you have done will be updated within 5 or more working days.
Recommended Articles:
Documents to be Carried for:
Below are the certain documents to be gathered irrespective of a happening of chance on aadhar card.
Proof of Identity Documents to be carried out
Following are the documents to be carried when you like to change a particular name.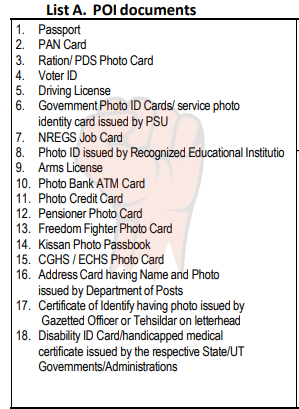 Date of Birth
If you like to change the date of birth of a single user, the following are the list to be gathered out.

Proof of Address
Here are the few documents to be taken before the address change. Make sure you have not missed anything.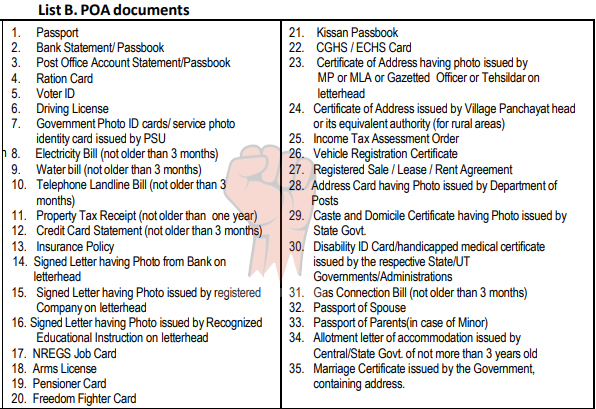 Proof of Relationship
When you are looking forward to changing the relationship status either as a wife or husband or any, file the following.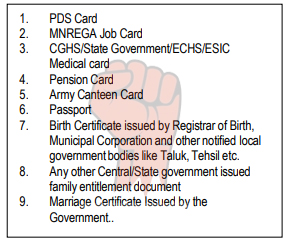 Final Words
As per my thoughts, the steps provided above were very clear. Follow all those instructions accordingly and implement. Ay doubt or like to know more about the process, contact us. We greatly help you in explaining each and every point irrespective of time. Also, one can share this useful information on any social networking site. As we are here to help out. Thank you. Associate with us by getting more and more updates on trickism at any time.