How to Chat in Omegle & Omegle Tips: Omegle is the chatting and messaging app in which we can talk to strangers and meet new friends. This is an amazing chatting app in which we can randomly chat with anyone through the Internet. Omegle chat name comes from the Portuguese word "oh.meg.gull". This app will take care of your security, it will never give any information about you to anyone. It will not give you any information about the person you are chatting with including the gender also.
So in this app, we have to anonymously chat with each other and no one knows each other until we reveal our identity. Come on, get started to chat with strangers and have fun with Omegle random chat. Chat With anonymous people and share your interests and become friends. It is your choice whether to add interests. If you had your interest and choices then, Omegle will arrange a video chat with strangers or you can talk through messages.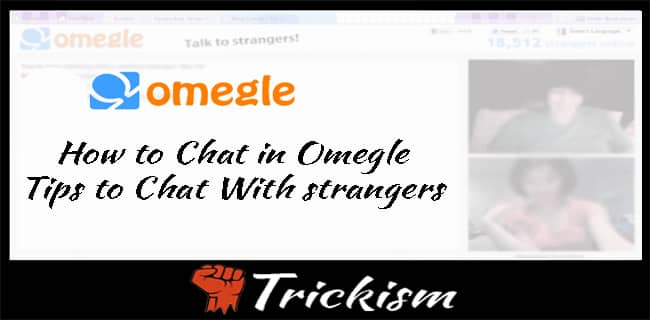 It will help you find the people of the same interests. Please don't give any personal information to anyone. Chat With anonymous people and share your interests and become friends. The most important thing is you have to be more careful while using these apps. If you are not satisfied with Omegle you can happily check these Omegle Alternatives to enjoy chatting with random people. For people who love Omegle, here are the best tips to follow.
How will this Omegle Connect you with People?
Actually, Omegle is a great way through which we can meet new friends, chat with them and have fun. You can end the conversation whenever you want. So it will be safe and secured until you give personal information to the stranger. The tagline of the Omegle is "Talk to strangers", disease and general dating website which will connect lots of people on the Internet. So firstly to use this app you have to go to the app's official website. In the home page, you can see the options like start chatting in which you can see two options text on video.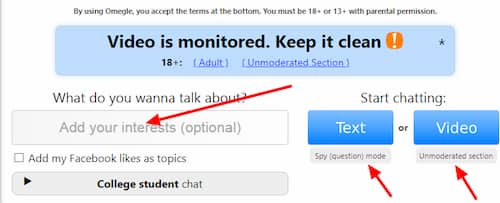 You can either set your preferences and then go to text or you can add your preferences using your Facebook account. Once you all set then it will show you so many anonymous chats who are online. You can pick a random person and start chatting with them. This is so simple, but be careful never give any information about you like your phone number, the address, etc.
Tips to How to Chat in Omegle: Omegle Tips
Now you have known about what is Omegle and how this will help you find a stranger to chat with. But when chatting with the anonymous person we have to be more careful because we don't know about whom you are talking to and what is the intention etc. That's why to assist you in that I am going to give you some important tips and suggestions to which you can be safe.
There are some do's and don'ts listed here you have to follow while chatting. After reading this you will get a better understanding of how to chat in Omegle. Remember safety is important to all of us, so firstly we going to the tips in which I will tell you about how to start an organic chat with an anonymous person. If you stay in your limits then this app will give you the boundless fun that you ever had. So what are you waiting for?  let's get started, check out these tips and suggestions given below and enjoy!
Enter your Preferences cleverly
When we go to the website firstly we have to set our preferences. So we need to be broad minded when setting preference. Set some interesting preferences which will interest girls this will increase the chances of being paired with the female.
For example, set the common hobbies of females or add the singer's list, etc will help you find a right companion and increases the chance of getting into chat with a female.

Take the Initiative 
First, you take the initiative and start the conversation. It will help you to get a positive response. It will be difficult to talk with a stranger. So, be prepared and have some lines in your mind to start chatting.
Ask her politely How was her day. Don't get deep, it will be negative for you.
Tell about movies and other common stuff.
Don't Raise the Question of Gender
The most important thing is you never ask whether the person is a female or not. This will drive them away from you. Just follow up the conversation, you will get to know in a few minutes. So, wait for some time.
If you are in a video chat, then make sure that the person really talking to you. It could be a recording showing to you to fake you. So, make sure to talk to them Live.
Keep Conversation Pleasant and Light
Just make a feel good conversation and keep the topic light and fair. This will create a good impression on you.
Talk about the place she lives, hobbies, etc.
Be a Cool Person – Don't hurry
If you want to take a long conversation, then you must be simple and humble. Mostly, when you are chatting online. If you talk harsh, it will lead to the end of the conversation. So be cool and patient, Don't hurry in the conversation.
Related Articles:
Show some sense of Humour
The sense of humor is the better way to go closer to anyone. So, crack some jokes by taking advantage of the situation. Avoid offensive jokes, try to tell your own life experience which caught funny. Also, if she had a similar one then the conversation prolongs.
Security Guidelines to Stay Safe
Try to follow these security guidelines to stay safe and enjoy the chat with the stranger. Make sure to follow these…
Tip 1: Don't give out personal information.
Omegle chat is with the strangers. So please don't give the personal information and also please don't go deeper in the first chat itself. It is not safe because we don't know who we are talking to on that side. Security is important, especially when interacting with anonymous persons.
Tip 2: Don't meet personally
It is best to avoid setting up the conversation to the personal meeting. It may be dangerous to females, so avoid personal meetings or dating, etc.
Tip 3: Don't do anything illegal.
This app will give the account to the person of above 13 age. So, if you are talking to minor, be careful to not talk inappropriately. Act with some common sense.
FAQ's On Omegle Tips
Conclusion
Finally, These are the better tips, guidelines and lots more about Omegle. So, be careful and have lots of fun chatting with strangers. If you like this Omegle tips then you can rate and review us in the comment section provided below. We hope you like our Omegle tips. Share the article with friends and families at social media networks and support us. Feel free to ask your questions in the comment box below. Stay tuned to Trickism for more awesome articles.