IRCTC Registration: Most of the people prefer train journey all the time. This is because, can be safe, reasonable, fare, comfortable enough comparatively.  Indian Railways have taken a wonderful step of introducing an online site or the mobile app for removing all the stress of a single user.
Today, one might not get step into the station and book the ticket. Most of the times can book a ticket online itself by simply creating an irctc account by doing an irctc account registration on the official site. However, standing on the line, booking a ticket for long distance or any in advance is gone.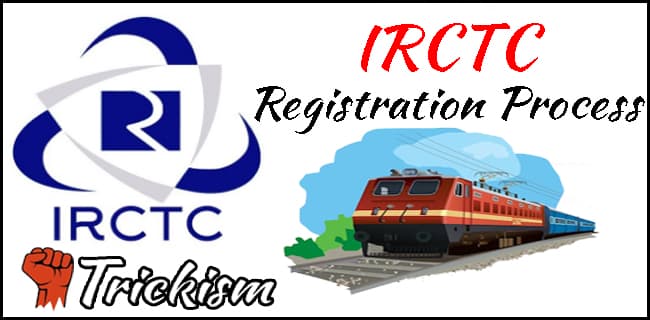 How we have updated on daily life, the process was also completely changed. Therefore, for the process of creating an irctc new account, follow the below steps and get successful irctc sign up without facing any hurdles. Also, if you like to know what exactly the train running status is, then you can get here in a clear and better understandable way.
IRCTC Registration Process
Follow the below instructions in order to complete a successful irctc registration process. So that you can sign up and book tickets whenever you are in need within a short period. Also, one can learn the current status of either a train/flight or the bus details in clear and better understandable format from the site.
1) First and foremost, go to the irctc official site with the help of any browser available in your system.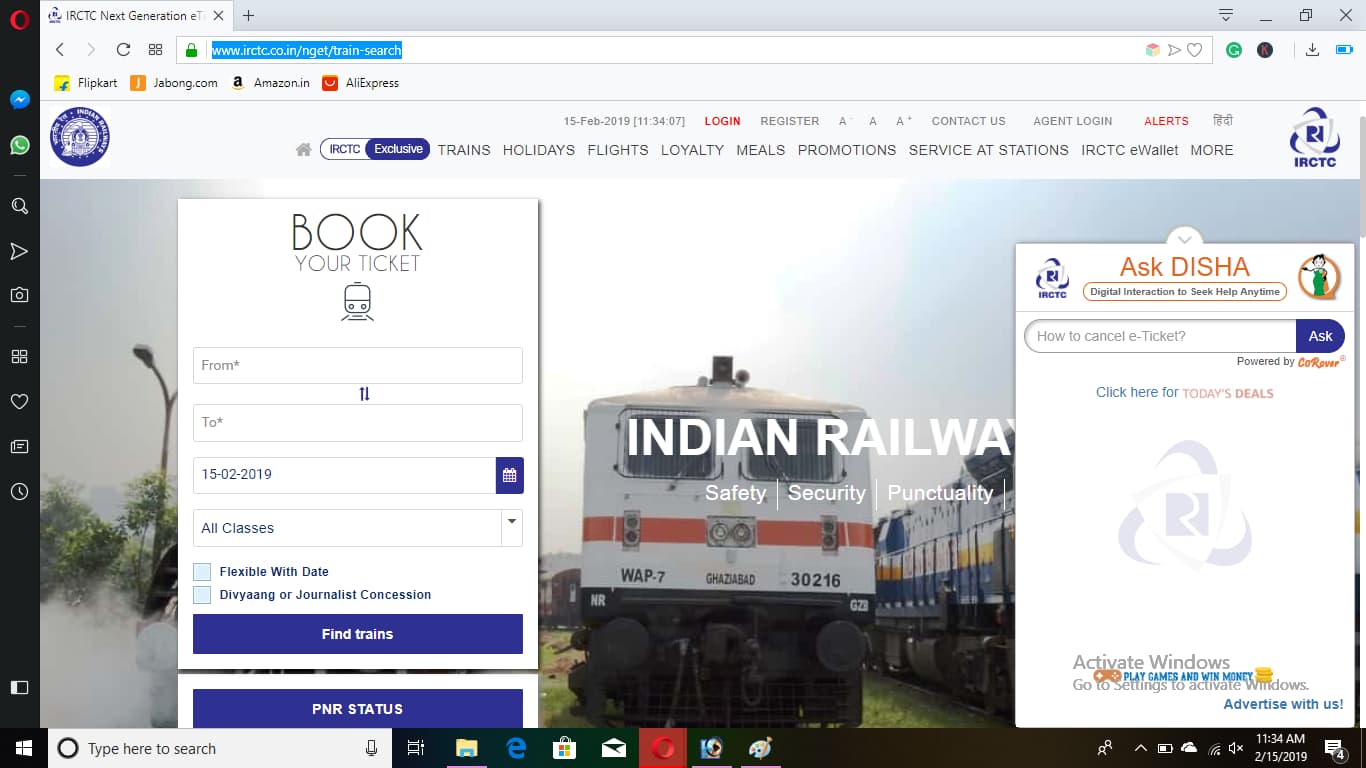 2) Click on login if you have already an irctc account. and fill the details like username, password, given capche for the successful sign in.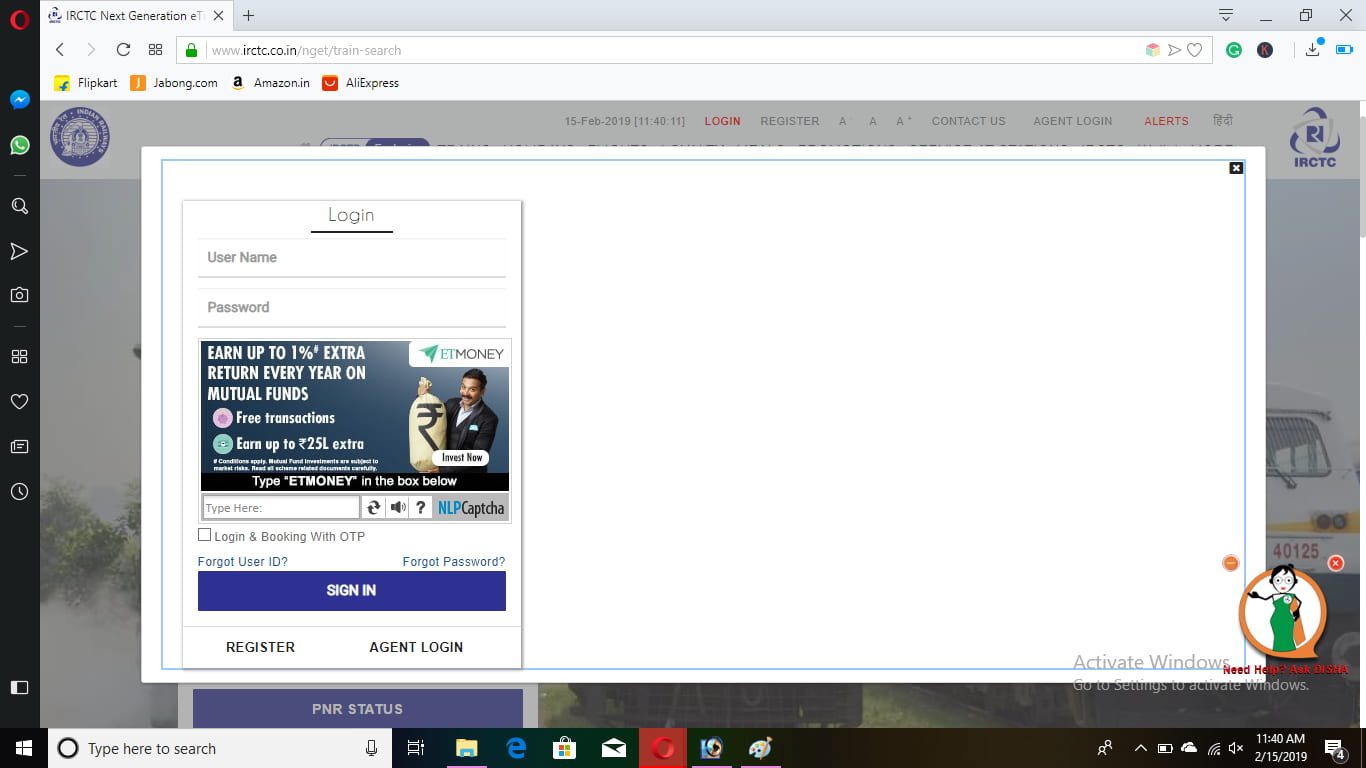 3) But, if you are new, go to the Indian railways website which we mentioned above and create a new account by simply tapping on it or click to register. The process of creating an irctc account will be explained below.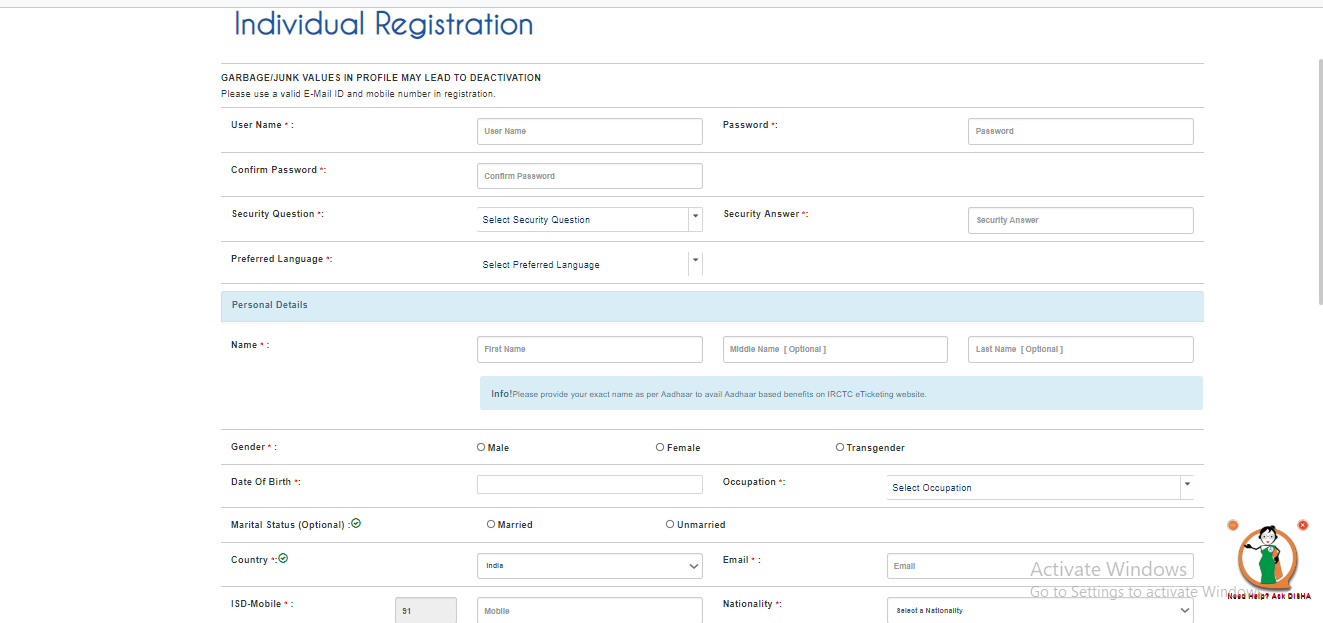 4) Enter the Details like Username, password, confirm passwords, security question, security answer, and preferred language.

5) Now Enter the Personal Details like Name, gender, date of birth, occupation, marital status, country, email id, ISD, and nationality.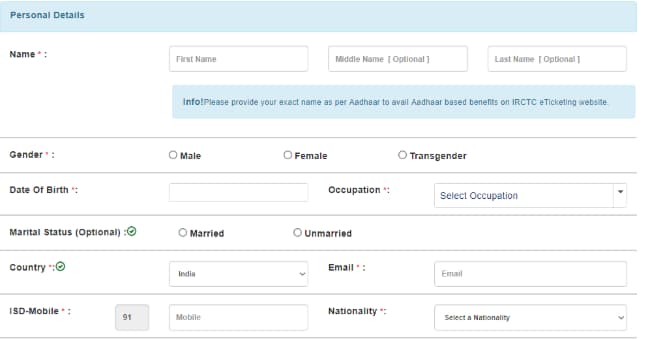 6) Enter Residential Address like flat/door/block No., street/Lane (Optional), area/locality (Optional), pin code, state, city/town, select city, post office, select a post office, phone, copy residence to the office address, yes or no.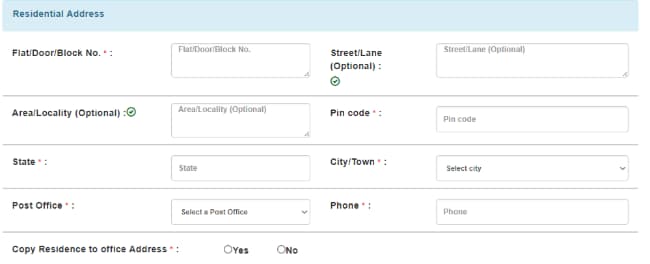 7) Once after filling all the details, simply click on the submit button.
8) It verifies your account and sends the details to the respective mail account.
9) Enter the respective verification code and tap on submit.
That's all!!!! As a result, you are successfully registered. If not or any doubt, you can ask us. So that we help you in a short period of time.
A Simple Guide To Create and Book Tickets
Till now we have seen how to register in irctc in step by step process. Let us have a look at booking tickets online. As you all know, registration is compulsory before you book tickets online. It is as simple as that. All the passengers can book a ticket for 6 members in a single instance.

Also, remember the limit is not at all constant. It varies for a day/month. Therefore, the users who like to book more than 6 tickets must and should show an Aadhar card with no other thought. Keeping this aside, it also allows the user to book train tickets even in advance without any fail.
Most of the times, whenever the user books a ticket, reservation, and GST chargers were included. And what not!!! At times there is a chance of including charges for the superfast train which is considered as additional. This means the charges vary as per the type of class and booking ticket respectively.
Timings for Booking a Ticket:
Usually, online booking will be active enough for 365 days. No matter whatever it is, any person can book the ticket irrespective of time. But yes, there is a daily break starting from 11:45 PM to next day till 12:20 AM.
Moreover, one can identify whether the ticket is booked successfully or underwent to a waiting list. This is all provided when you are in the process of booking a ticket. Once they are done, moving to the payment mode is the last step.
Recommended Articles:
Steps to Book a Ticket Online
Here we go with a few steps that can help to book a ticket online without any fail. Doing so reduces the user's stress and save a lot of time.
The very first step, when you are new to the site, register by following above steps with no second thought. The registration process is available for free.
Now in order to irctc sign up, provide the created username and password accordingly.
Once after successful sign-up, the user has to select from and to stations, date, type of the class accordingly. As a result, tap on the button called find trains. [For example From-Hyd, To-Tirupathi, Date: any, Class: All stations]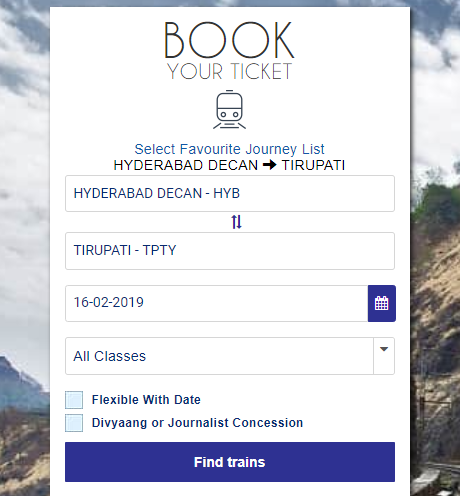 Here we are. Where the user can see a list of available trains including depart, arrive, duration, fare, and class respectively.

Choose the train on the basis of the user's choice. And when you click on check availability lying right side of the screen. It provides the following details.

Therefore, when the user picks and clicks on the book now option, a new window gets opened as shown below. If in case there is no availability, displays a message like no trains were available between stations.
Hence, the above is an alternative availability. Choose according to it and enjoy the trip by capturing various moments successfully. Finally, click on log out to come out from the respective window.
Final Words
Well, as per my point of view, everything is clear. If you get any doubts or like to know more information related to this, drop down the comment in the following section. Thank you. Also, like the article, can share with friends and also on social networking sites without any fail. Stay connected with trickism for more interesting tutorials.