Skype is one of the instant messaging apps that provides online chatting and video calling feature. This skype is used by a huge number of people but when they got waxed up they mainly require to delete skype account. But Skype does not give an option for direct deletion. So now the question arises how to delete a skype account without any trouble. Many of the online providers don't go on encouraging deletion of accounts so they expect the customers to contact the support team.
Now we are here to show how to delete skype without any issues. But before proceeding to close skype account it requires removing the payment methods, canceling the subscriptions and removing the attached Microsoft accounts. All these are must to do before deleting skype account. Many of the users don't know how to deactivate skype and they choose wrong methods which literally leaves their personal information there itself.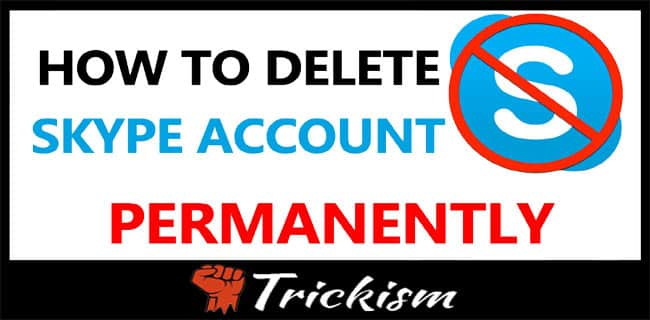 We are providing the easy way on how to delete your Skype account permanently. Also, you can cancel skype account but this one leaves a footprint of your personal data. We will provide the detail steps to skype delete account and you can choose the way you want.
How to Close Skype Account
Skype doesn't provide a single button to close the account. It simply says to contact us to close your account. In fact, contacting them becomes trouble some times. You can follow the below steps carefully.
Remove Microsoft account from Skype.
Cancel all the active subscriptions.
If you have a skype number then remove it.
Disable the Auto-Renew feature.
Remove personal details from your Skype profile
Make your status as Offline or Invisible
We simply request you to get back all the data from Skype because if the account once closed cannot be retrieved for data.
Steps to Delete Skype Account
Here are some of the steps provided in order to delete a skype account permanently. Follow the steps perfectly and close your Skype account.
First sign in to your Skype account with your login credentials.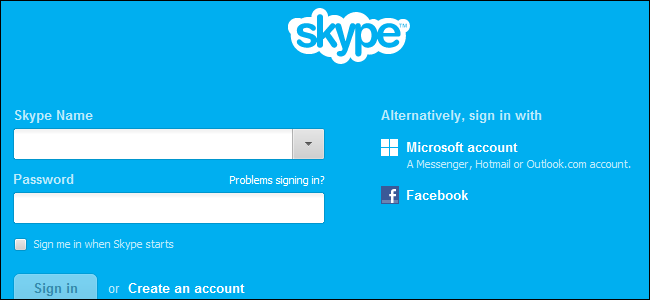 Now click on your profile name. You can see manage accounts. Click on it.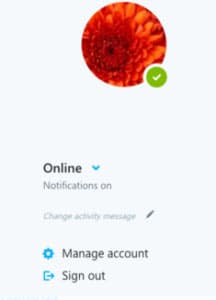 You will be redirected to the settings page. Scroll down below and you can see the 

Settings and preferences

, in that click on

 Account settings

.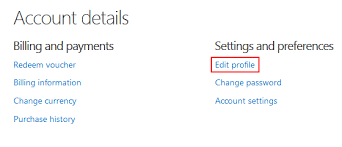 Remove Linked Accounts
 Here you will see the skype accounts and linked accounts.

In the 

linked accounts

 you will have either Facebook or Microsoft accounts. Which you need to unlink them from Skype. To Unlink, click on the 

unlink

 option which is a side to the linked accounts.

If it shows Not linked rather than unlink then you can directly go to the next step.

Now a confirmation message appears there, click on 

continue

 option.
Cancel Subscriptions on Skype
Now you need to cancel the subscriptions. To Cancel the subscriptions just follow the below process
Below your profile name, you can see the discover subscriptions like this.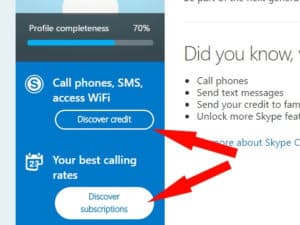 Click on the 

discover subscriptions

. Here you can check whether you are having any active subscriptions or not.
If you are active on any subscriptions, cancel them.
Now it will ask for the confirmation then click "Thanks but no thanks, I still want to cancel" to confirm subscription cancellation.
Cancel Skype Number
Now you need to cancel your Skype number. For that follow the steps below.
Click on your profile name.
Select Manage account.
Select Edit Profile option.
Scroll down for Contact Details.
Check for your 

mobile number

 and then remove it.
Recommended Articles:
Disable Auto Recharge
If you have manually selected and option for auto recharge then you need to cancel it. For that
Go to Account Details.
Billing and Payments.

Disable auto recharge

 option.
If you have any recurring payments all those will be canceled now.

Now you have successfully canceled all the subscriptions, now you need to contact the customer service and ask them to close your account.
Requesting Account Deletion
In order to delete the account, you need to proceed with the following steps.
Visit the

Skype customer support page

. Only customer support has the option to delete the account. Other than them no one has the option.
Sign in with your skype id and password.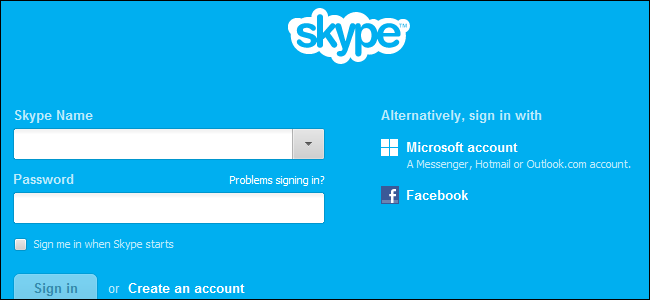 Now Click the drop-down menu labeled "

Choose a Help Topic

"
Then Select

Deleting an Account

.
Click the drop-down menu labeled
Choose a Related Problem 

Deleting an Account

again.
Click Next.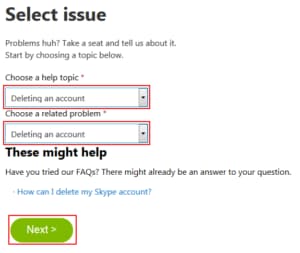 Now for the contact methods click on the

text chat support

.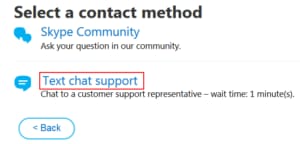 Finally, you will be ready to chat. Ask the customer support to deactivate skype account.
That's it!! This is how simple to delete the Skype account easily with just a few steps. It is always recommended to do the earlier steps into safeguard your information.
Conclusion
Finally, we have found and shown you a way to cancel the skype account. If you have any other issues while deleting skype account then let us know we will solve your issues. Now many of the users had got a solution for how do I delete my skype account permanently. We hope you like the article and willing to support us by sharing the article on your social media walls. Visit Trickism for more stuff like this.