A wedding is a wonderful occasion full of lovely sentiments. This day should be one of the most memorable in the life of a committed couple. It must be remembered forever by both the newlyweds and their guests.
That's why the bride and groom spare no effort to create the ideal outcome and plan a wonderful celebration. But in the midst of it all, it can be easy to overlook the most important things. That's why help is necessary.
People often use wedding planners to get the details right, but they are expensive. These days you can use online wedding planners like the Zola Wedding website to help you through the process.
The Story Behind Zola
The story of Zola started in New York City in 2013. Nobu Nakaguchi and Shan-Lyn Ma are its creators. This wedding start-up initially offered only relatively basic services (primarily aimed at assisting guests in choosing and purchasing presents.
The functionality of the platform, however, was expanded step-by-step, and new Zola features were introduced. Today, Zola is totally dedicated to making the process of wedding planning as easy and fun as possible.
The formation of gift registers, sending out invites, assistance in managing the guest list, and the like are among the features.
In addition, there is also the option of making a wedding website that will help a specific couple's exciting event
What Is a Wedding Website?
A wedding website is a custom website made only for your wedding day. It's a one-stop-shop that lets you share important wedding information with your family and friends (of course, only those who are wedding guests).
The details include the venue, the weekend timetable, the dress code, where you are registered, information about travel and accommodation, as well as photographs. That is also how guests RSVP to the wedding for some couples.
The great news is that to create a wedding website of your dreams (or just one that suits your wedding stationery), you don't need a fancy website designer.
Use Zola to create a free website for your wedding that easily holds all your content, thoughts and recommendations, photo albums, wedding hashtag, RSVP form, and more in one site. Here's how to do it.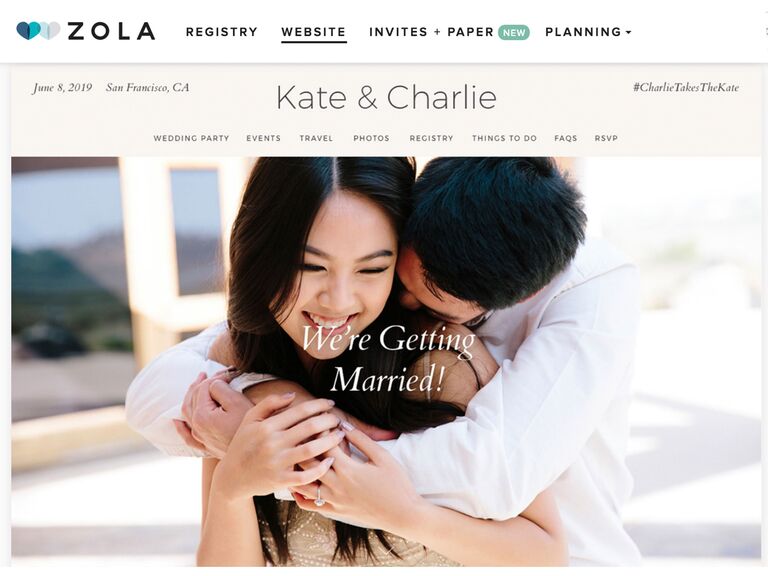 How to Create a Zola Wedding Website
With the creation of an account, it all starts. In Zola's case, though, everything is a little peculiar. Zola provides a small questionnaire for new users to start with (just click on Register With Zola) and answer a few basic questions.
The responses gathered to enable the company to draw up a portrait of the soon-to-be-wed couple and explore how to make these newlyweds' special day an entirely memorable experience. How to build a Zola wedding website is outlined below.
Go to the Zola wedding website tool.
Pick a design or template or theme (or create your own).
Select a domain (like www.zola.com/wedding/meghanandharry or www.megharryforeverandever.com).
Add your event details.
Personalize it.
Have your registry automatically integrate into your website pages.
Set up your online wedding RSVP form.
Proofread everything and test the links.
Publish it!
Share the website link with guests (via your save the dates and/or invitations).
Conclusion
A personal website is an integral part of the wedding planning process for many engaged couples. Sometimes, it's where guests go to find information on the gift registry, directions to the party, preferred attire, and more.
Wedding tools such as Zola make it possible for couples to create free personalized websites. That is why websites like these are becoming the fastest growing websites online.