For quite some time, your family's holiday card may have been received by a small version of you. But now, you're the one creating your own's Christmas cards, and you'll need a site that will enable you to do it, regardless of your aim or theme.
Luckily, hours spent shopping at bookstores or sitting at home with music in the background, licking stamps, and sealing envelopes are no longer involved in making custom Christmas cards.
Check out the best websites where personalized holiday cards can be made. The sites below add a fresh, innovative twist to this yearly process.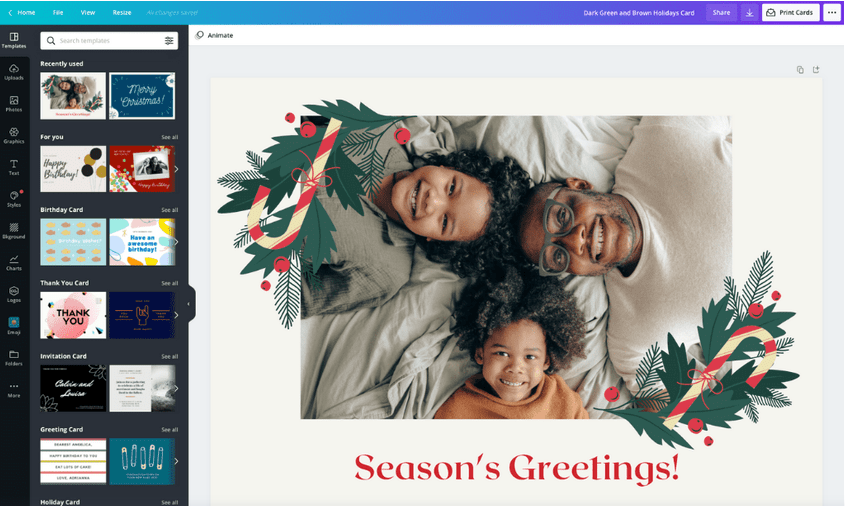 Canva
With personalized Christmas cards in Canva, you can extend the holiday cheer. Make a Christmas photo card, upload your own holiday snaps, or try hundreds of holiday card templates.
Just head to canva.com. If you're already a user, log in; otherwise, sign up with your Facebook or Google account. Using the search tool, search for "Christmas card" to begin.
Choose Christmas card templates to fit every theme and mood, with animated holiday scenes and family portraits featuring Santa, snowflakes, polar bears, and candy canes. Select and begin designing the template you want.
To move pictures, objects, graphics, shapes, stickers, and other elements onto your card, use the drag-and-drop tool, and reorganize them, following a color scheme and style that best represents the Christmas spirit, upload family pictures, badges, or artwork.
Adobe Spark Post
In Adobe Spark Post, you can choose from a set of pre-created templates and an image and typography library, so you don't have to bother looking into the design of your card.
You'll see a range of shapes and sizes you can choose from for your card when you launch Spark Post. Select the one that matches your style the best. Choose the size you want to use based on the photo, or select one that suits your taste.
Select "Theme" to search through the theme choices once you have selected the correct size. Select 'Background' to insert an image and then upload a photo as the card's background. It provides you with the tools to adjust your photo's brightness, tint, and color.
Fonts can contribute to your card's tone and style. Click "Text" to choose your font, and select the color and size. Upload your card digitally on social media once you're done, or download and print it out.
Fotor
Begin using Fotor to create custom Christmas cards! Fotor's card maker offers all sorts of well-designed Christmas card templates, and it allows you to make beautifully crafted Christmas cards in minutes.
When you make cards with Fotor, there are endless design variations to use. By tweaking pictures, texts, and themes, you can quickly have a unique card that matches your personality.
All ready-made designs are friendly for beginners. To let your family or friends know how much you love them, you can share or print your customized Christmas card for free.
Smilebox
Without requiring some skill, the Smilebox Christmas card maker creates beautiful and free Christmas cards. Their Christmas eCard Maker is filled with all kinds of online Christmas card themes. Scroll through the list and pick your preference, then select "Customize."
Making Christmas eCards with images is also simple. Upload photos to your free Christmas picture eCards from your phone, desktop, or social media effortlessly. Just click "Add More Photos" and follow the instructions to upload them to the Christmas card maker online.
It is fast and simple to change your online Christmas card's text, fonts, and colors. Click the buttons for the customization window or type in the text you like. The online Christmas card maker will update each modification instantly.
You can email, print, and post your online Christmas card to Facebook, Instagram, or Twitter after doing a final check to see if all the details are accurate.
Conclusion
With photos of you and your family, maybe you'd like to show your holiday spirit and complement it with some clever holiday quotes. Perhaps you're more of a cold, Instagram sort of snowscape.
Or you might like sleek cards with minimalist typography. Whatever your goal, by personalizing Christmas cards on these sites, you can reach out to loved ones with chic and customized warm wishes for the year ahead.