Delete POF Account: How to Delete POF account is the main problem which POF Account holders are facing during deleting a pof Account. In this tutorial, we will be explaining the step by step method to delete pof account, delete pof profile and hiding pof account. People who are facing problems can refer this article till the end to delete the account successfully.
Plenty Of Fish (POF) is one of the Most Popular Dating sites with over a 100 million users. So many people have found their perfect match using this website and graced their website. It has many positive ratings from the users. Many users of POF has been benefited in finding their life partners. If you got your partner and now want to Delete Plenty Of Fish Account or you are too annoyed by this dating stuff then this is the right place to know more about deleting POF account.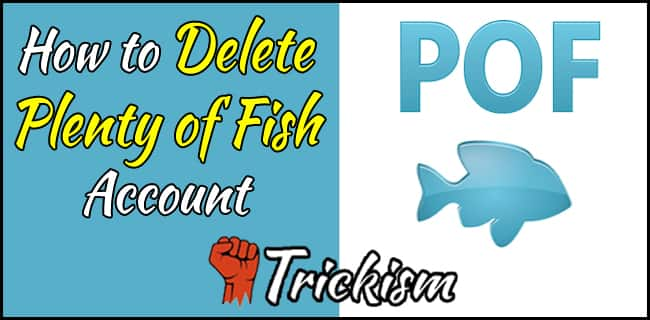 Every step is explained with screenshots. The process will be so simple and easy to do. Before deleting the POF account, you have an option of Deactivating POF Temporarily. The benefit of temporarily deactivating your account is that the data of your account will be stored. Nothing of your data will be deleted and if you want to reactivate your POF account then the data remains safe. So think before deleting completely. Continue Reading…
Steps to Delete POF Account – POF Delete
"How to Delete POF Account" This doubt will be cleared within a few minutes after reading the below steps. It is so easy to delete pof account by following the steps below. Just your task is to do according to the steps shown below. If you face any problem in doing then comment the problem in the comment section. we will solve it asap.
Best 3 Ways to Delete POF Account
As I told above, I will be explaining all the three methods. The Three methods will be explained with screenshots and they are as follows
How to DeletePOF Account.
How to Delete POF Profile &
Hide POF Account.
How to Delete POF Account Permanently
The process of deleting POF Account Permanently is so easy to do. Simply follow the steps below and delete Plenty of Fish account in minutes.
Go to Plenty Of Fish home page (POF Home Page) or Click Here.
Login to Your POF Account.

After logging in, You will be having a the POF Dashboard.
Now click on Help.

Here you will be having some options. Now click on "Delete Account" under "How to Delete My Account" option.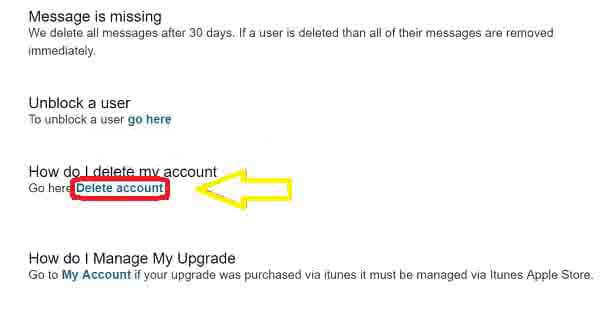 Now you will be redirected to the account deletion page.
Here it asks you some information like your Username, Password, Reason for Leaving POF Account, How many Dates with POF Users you did and Would you recommend POF to others. These are the questions they ask in a form while deleting the POF account.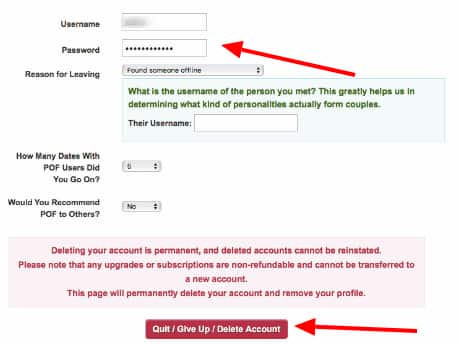 Enter all the details.
Click on Quit/Give up/Delete Account.
That's it. This is how we should delete the POF Account with this few steps. If you want to do the same within 2 steps then this pro tip is for you. Have a look at the pro tip this will be so easy.
Pro Tip: Delete POF Account With 2 Steps
If you want to Delete POF Account within 2 Steps then follow according to the Pro Tip. Simply Delete Account with POF Simply.
Visit Here.
Enter Your Details and Click on Quit/Give Up/Delete Account.
How to Delete POF Profiles
As we have seen plenty of fish delete account above, Now we should delete/remove the POF profile with few simple steps. Let's Move into the process of doing it.


In those options, You can see the option called "Remove Profile"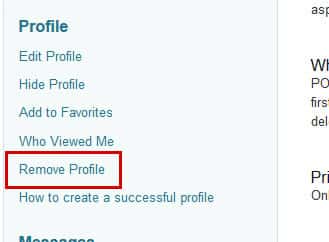 That's it!!! This is how we should remove a profile of POF simply using some easy steps. Follow the First Method to Delete the Account and the 2nd one is to Delete POF Profile Only. If you just want to hide the account then you can do it by following the below steps.
Recommended Articles:
How to Hide POF Account
You can simply hide your POF profile/Account. No one can see you. Just Keep in mind that hiding your profile removes you from all search results of POF. Have a look about Hiding the POF Account.
Login to your POF Account.


Now you can see the option called "Hide your Profile".

That's it you have successfully hidden your POF Account.
All three process will be very easy and simple to do. But doing them according to the steps given will fetch you the perfect results. So follow according to the steps and do the process. You can choose any of the above methods.
FAQ's on Delete POF Account

Conclusion:
Finally, you have learned How to Delete POF Account, How to Delete POF Profile and How to Hide POF Profile. Every method will be easy and simple to do. Choose the one which suits your requirement and does the remaining process. Like us and share the article in Social Media Networks. Feel free to ask your questions if you faced any issue while doing this process. Visit Trickism for more Awesome Tutorial.