How to Post on Instagram from pc: Instagram is the most famous and beloved social networking site accessed by millions of users even today. But this is supported only by the mobile platform.  In that case, how can you post through the desktop? Is there any method or process involved in it? Well, Posting on Instagram through PC is not that difficult.
Anybody can access and follow the below process without any fail. Remember one point as to post on Instagram from PC, one has to get access with any of the web browsers consists of a unique feature allowing the Instagram on PC successfully. Enabling this feature is all about telling the particular browser as you are looking forward to Instagram on mobile rather than desktop.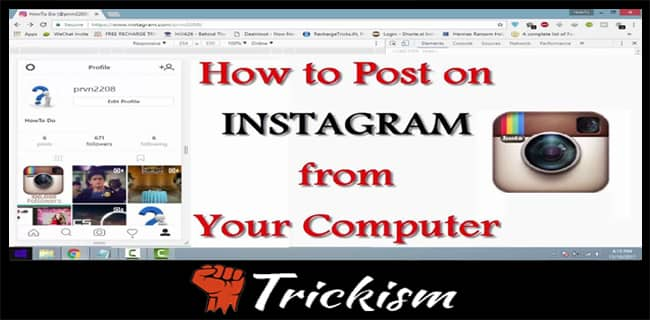 In that situation, the user is now all set to use and can view the upload button. As a result, by tapping on it can post any number of files without stepping back. So now editing photos or uploading to the mobile and posting on your favorite social networking sites has been gone. Simply try this desktop version and post all your favorites on Instagram right immediately.
How to Post on Instagram from PC/ Mac
Now it is the time to get back with the method or process involved to post any number of pictures or any through PC/ Mac operating system. This is possible in three different ways.
how to post on Instagram from pc
how to post on Instagram from mac
how can I post pictures on Instagram from my computer using third-party tools
Pick up any method you like to go with and upload the video to Instagram from pc without facing any kind of troubleshooting issues. Now follow the instructions and implement accordingly.
Posting on Instagram From PC Using Chrome
Here let us go through the steps involved for how to post on Instagram from mac through one of the web browsers like chrome. Simply follow the steps and implement accordingly.
In the first step, navigate to Instagram's official site and provide all your credentials for the successful login.
Now, at the top, click on View-> developer and the developer tools.

Now one can see the developer console window where it has an option called Desktop View. As such it is enabled by default. The user has to change the option into the mobile view.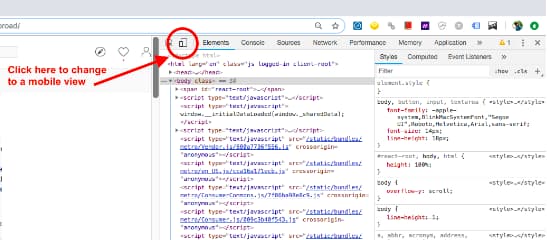 Therefore, on changing desktop view to mobile view, it converts as shown below.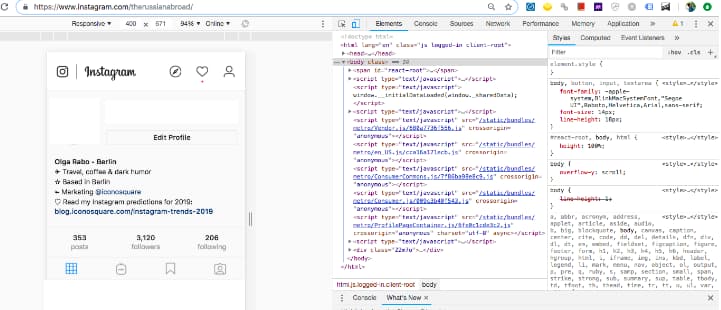 Now it is time to change the option called responsive view to the mobile model like iPhone6/7/8 respectively.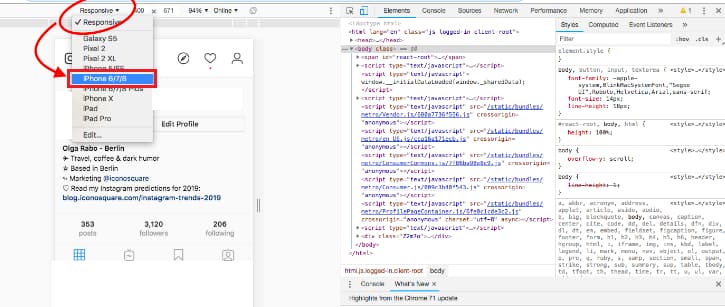 For instance, if you have a Galaxy S5/ Pixel/ iPhone, select accordingly.
Now at present, as I maintain iPhone6, select the option iPhone6/7/8 respectively.
Doing so will provide an upload button successfully.

Just simply by tapping on the upload button, one can access and upload any of the system files by simply navigating into that particular folder. Do not forget to choose the image in JPG or JPEG format. This is because it does not support PNG files.
As a result, select and click on open.
That's all. All set to publish a new post without any fail.
One can add the caption, tag others or geolocate which is very much similar on mobile.
Finally, click on the share and done with it.
That's all!!! As simple as that.
Steps to Post On Instagram From Mac
Till now we have seen the process of posting on Instagram from PC using a web browser chrome. Now here we go with a detailed process involved for how to post on Instagram from pc using safari in a clear and better understandable format.
In the first step, open the Safari browser-> and select preferences available in the form of lists at the beginning of the screen.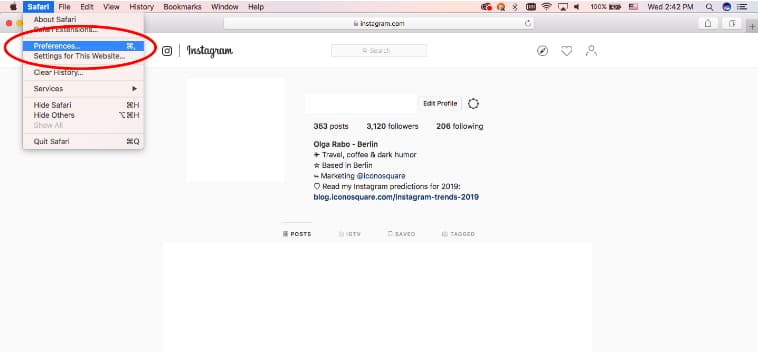 And then click on advance-> show develop menu option available in the menu bar. Doing so, a new menu gets open where one has to move to the option called develop-> user agent-> and then choose Safari iPhone available in the lists.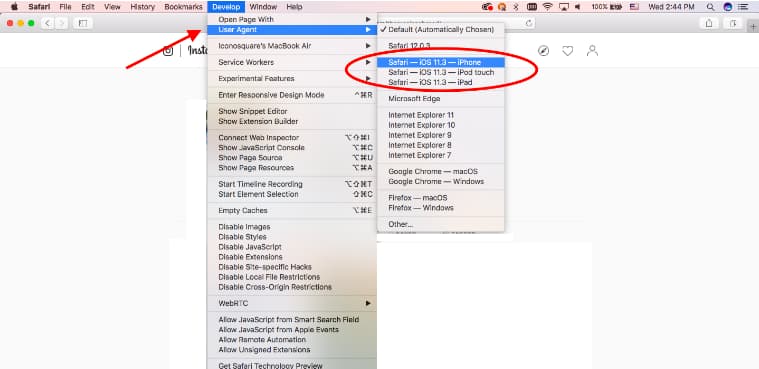 Now it is all set to view the page in the form of the mobile screen. Also, the user can notice the upload button available at the bottom of the page.

And then follow the same instructions involved in the above method. Like uploading a file, adding a caption/ geolocate and then tap on share for posting on Instagram successfully.
That's all!!!! As simple as that.
Recommended Articles on Instagram:
Use Third Party Tools
The other way or the possibility of posting on Instagram form PC is using third-party tools. These are the emulators where one can download on desktop and use accordingly. Here we have come with few such third-party tools so that look forward and pick up any to use accordingly.
Therefore, have a look understand and pick the best you like to go with for accessing any of the application like Instagram.
Bluestacks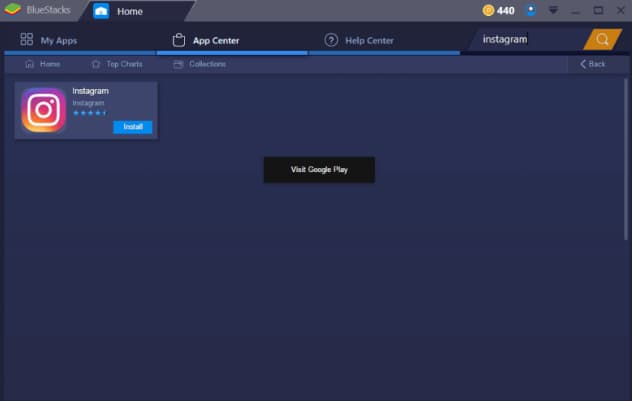 Bluestacks is one of the best platforms to access any number of apps/ games on PC. Most of the users who like to use android apps/ games on pc no need to get disappointed. This is because, for such cases, Bluestacks is here. One has to download and get this wonderful emulator on PC.
Once after successful download, launch the emulator and search for the app like Instagram with the help fo search bar available in it. Locate and tap on it to install for posting any number of files on Instagram from pc. This is one of the most simple technique than any to use mobile apps on PC successfully.
Download Bluestacks Right Here
Uplet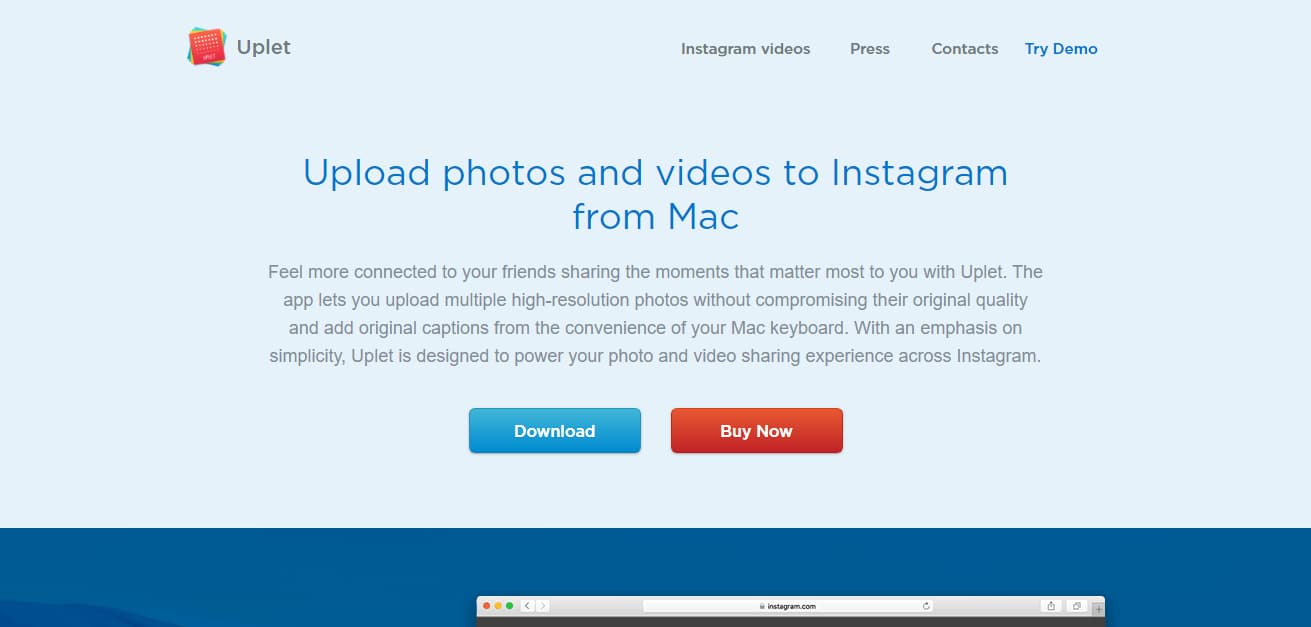 The Uplet is also the best third-party tool helps in accessing apps like Instagram. The user has a chance to upload various photos and videos directly on Instagram including the caption without any fail. So, therefore, in order to use, simply download and start using it accordingly by providing login credentials.
The same is possible even with the recently updated version. Moreover, uplet has not come with an option called in-app trimming features respectively. There might be a lack of filters and editing tools, but still one can shrink the photos into either a portrait or the landscape mode with no doubt.
Final Words
Well, according to my views or opinion the complete process or methods are very clear and understandable. If any doubts or like to get more information about it, simply mention in the following comment bot to help and guide you in a very short time. If you think and like to share this article, can post on any of the social networking sites to help others learning the process. Thank you. Stay connected with trickism for more simpler tricks.