For food enthusiasts and non-enthusiasts alike, the kitchen is one of the most important spaces in a home. It's an environment where magical, nourishing art is created. Hence its design has to inspire, soothe, and be welcoming. That said, designing your kitchen space can be an intimidating task.
It's easy to get confused with all the furniture options, colours, fixtures, bowl types, and equipment. Luckily, that's where this article comes in. We've made a list of 20 beautifully artistic kitchens to inspire your kitchen interior design and simplify the remodelling process. Feel free to explore and modify them to suit you and the rest of your house.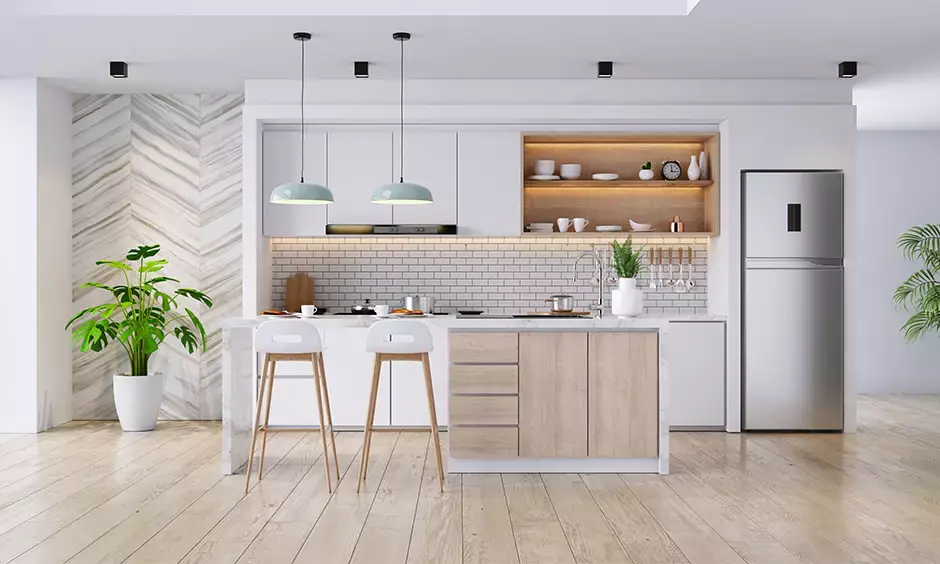 Your Personality, Your Kitchen
Just like the rest of the house, kitchens reflect the personality of the one who's lord over them. For an adventurous type, this kitchen is heaven.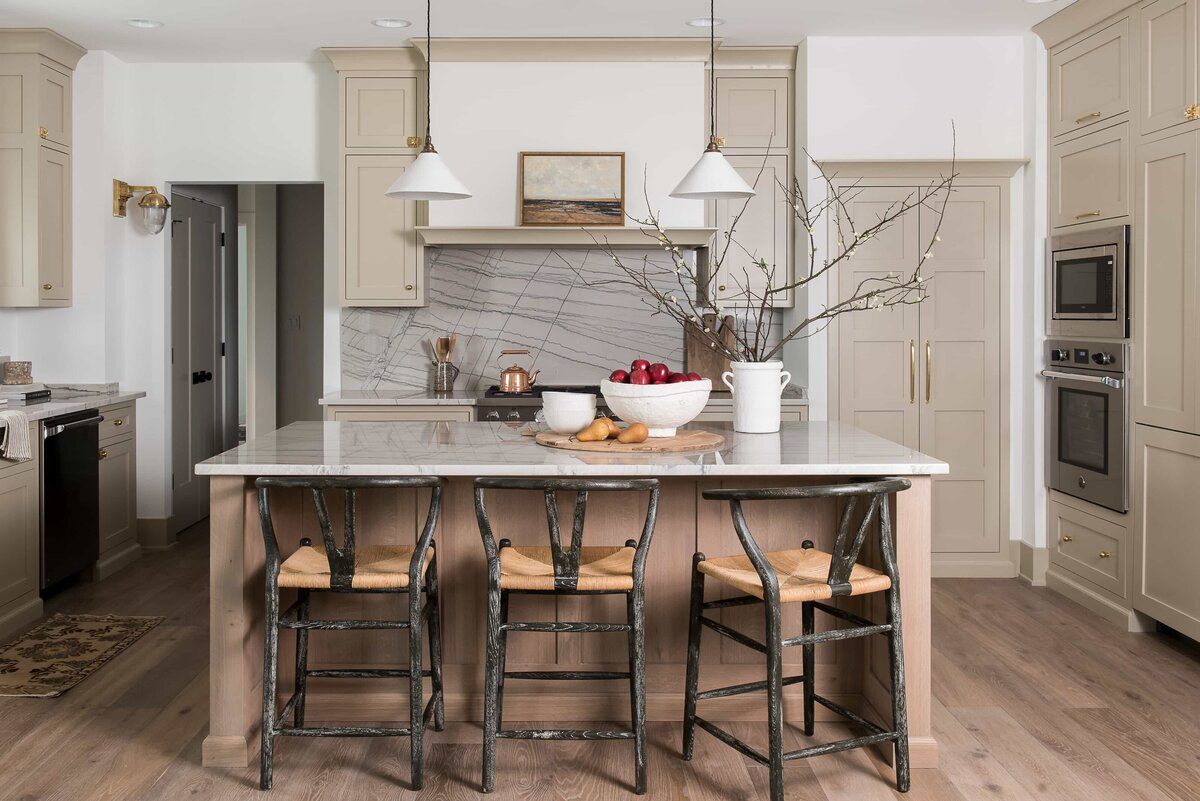 Between the earthy brown shades, wishbone stools, potted branches, and a fruit bowl that's always within reach, this modern kitchen will feed your wanderlust.
The wooden floorboard and the central portrait of wilderness tie in this look perfectly. Altogether, you'll get a sense of being in all your happy places—outside and in the kitchen.
Dark and Solid Saves the Day
When in doubt, add a bold pop of dark green, and you'll have a breathtaking view of the kitchen. You'll even appreciate the brass accents when dominated by any deep color of choice for the cupboards and floating cabinets.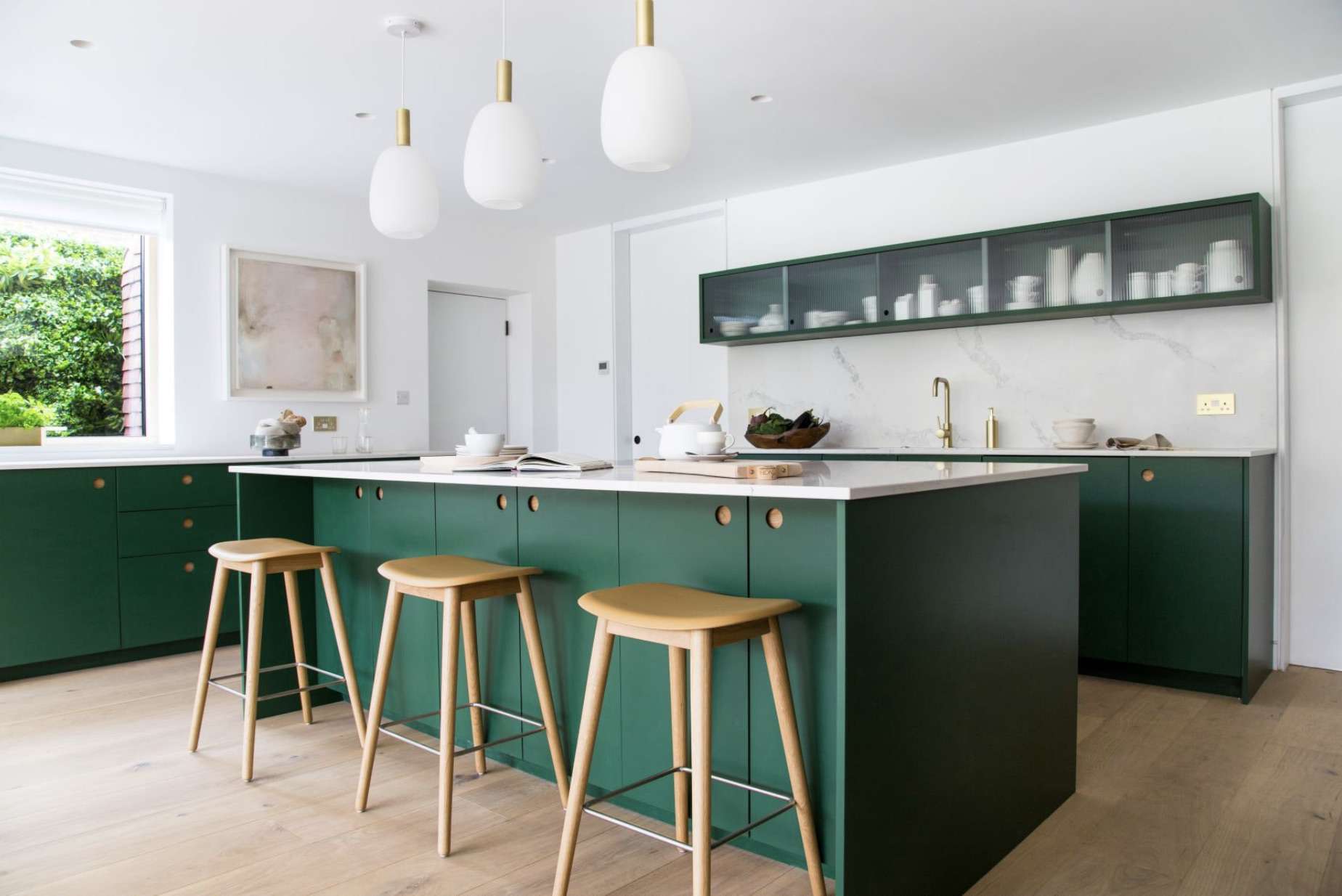 Altogether, the colors and fine wooden stools match the general aesthetic of the garden view just outside the window.
So if you're one to spend time in the garden but wouldn't want to bring the garden into your house, this kitchen design is a delightful inspiration.
Tuck Away in a Perfect Escape
If you've got a narrow space, this interior design inspires an illusion of a wider, even artistic kitchen. A good idea is adding large and small paintings that visually expand your strait kitchen.
That's not all! The horizontal lines from the furnishings and fixtures all complement the slanted ceiling and lead your eyes to a place of comfort by the window.
You can either pull up a stool by the island or sit by the window with your meal or a cup of coffee.
Your Preferred Space, Your Memories
If you associate meals with happy memories created with family and friends, this space will influence your design choice. The kitchen's monochrome cupboards and fixtures allow the friendly dining section to get all the love and attention.
Also, hanging a unique artwork on the wall adds color and vibrance to the memories you make. Your options range from Rafia art and hangable sculptures to any other art piece. If you'd like, you can display any type of art in your kitchen.
Stunning Piece
Subtle beauty is never out of fashion, and this kitchen gives just that vibe. The design creates a pleasing variance between the dark stained wood and the white marble tops, walls, and backlash.
Although it's narrow, there's enough sitting space to host friends. Top off this simplicity with fresh flowers and low-hanging lights, and you've got yourself a kitchen to be proud of.
The Grand Entrance
Want a grand entrance every time you enter your kitchen? Do away with the conventional rectangle doors and try an archway instead. What's more, this stellar choice expertly shows off the beautiful kitchen beyond.
Another good choice for white wall kitchens is bold solid colours stark in the middle of the kitchen. With this navy shiplap island, all attention is inside the kitchen. It invites you in to the space and onto the simple wooden stools.
Shiplap Encore
Take advantage of your high ceiling and stretch it out visually with a dark-coloured shiplap design covering your cupboards and island. If your ceiling is slanted, allow the cupboard top to extend along those lines instead of the traditional flat box tops.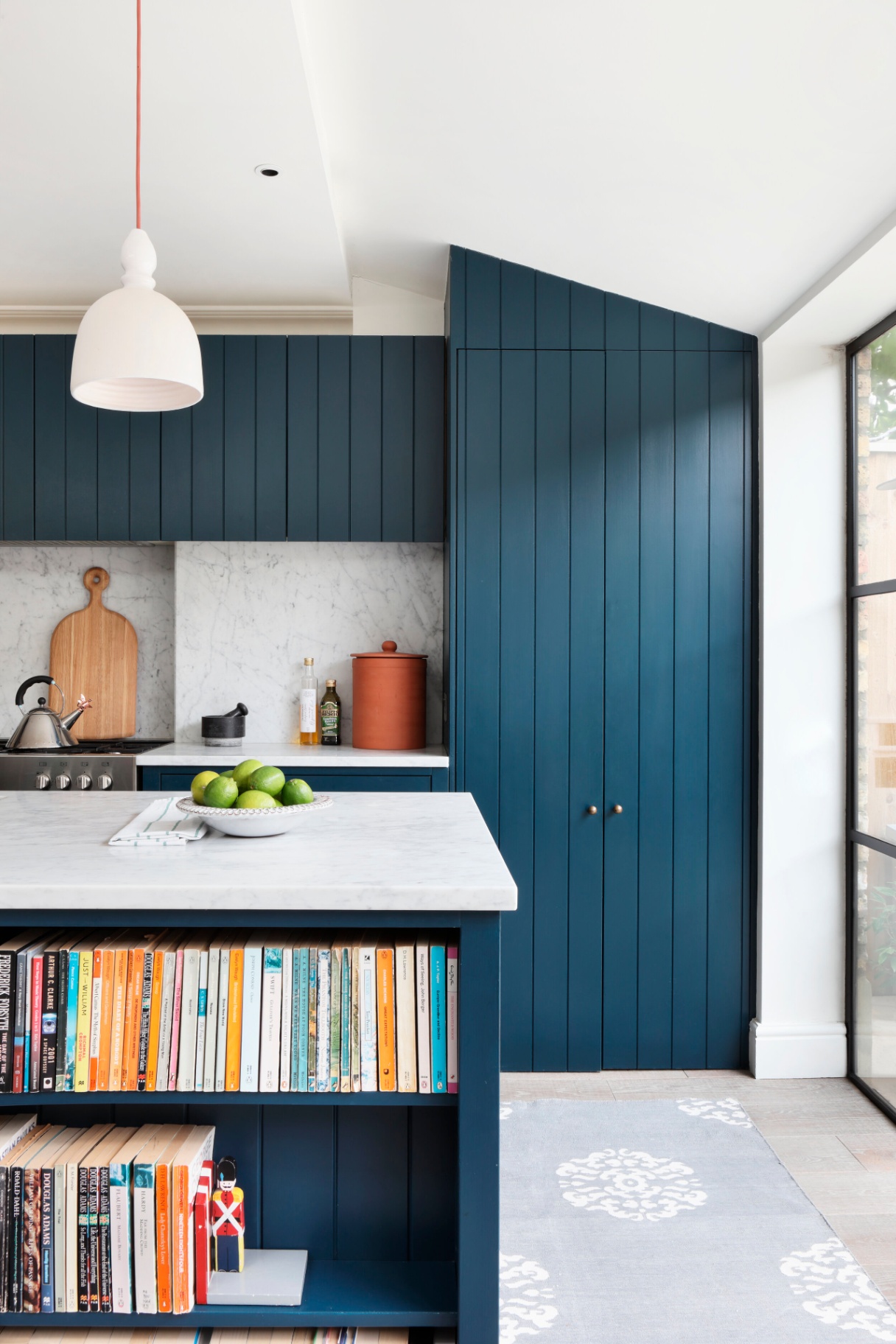 While some people would store kitchen equipment in their island storage, spruce up your design with some books in the open cupboard and a fruit bowl of colourful fruits.
Of course, a floor-to-ceiling glass window works perfectly by the island table. Don't be surprised when you spend hours here.
Dark Aesthetic
Kitchens don't always have to be immediately bright and white. There's some joy to be found in kitchens with a mix of dark and light aesthetics. This design would fit in well if your interests lie along goth lines.
Additionally, showing off your artistic taste isn't a bad idea. One idea to do this is hanging a black and white portrait or, if you feel adventurous, a colourful painting of sentimental value to you.
Drama for Art's Sake
Kitchens can sometimes be overlooked when shopping for dramatic items, and yet two elements defy this skillfully in this kitchen. The first is the chairs' wooden legs that match the black island cupboards and cabinet handles, giving an illusion of floating chairs.
The second is the bold kitchen lighting that shows off your inner decor skills. These white walls and cabinets complement the pendant lights and draw attention to what you want. It's drama, for art's sake.
Flawless Minimalism
With this design, the meat is obviously in the flawless minimalism created by white marble tops and geometric lighting. The white, black, and stainless steel are surfaces for light to bounce off, especially when there's a limited source of natural light.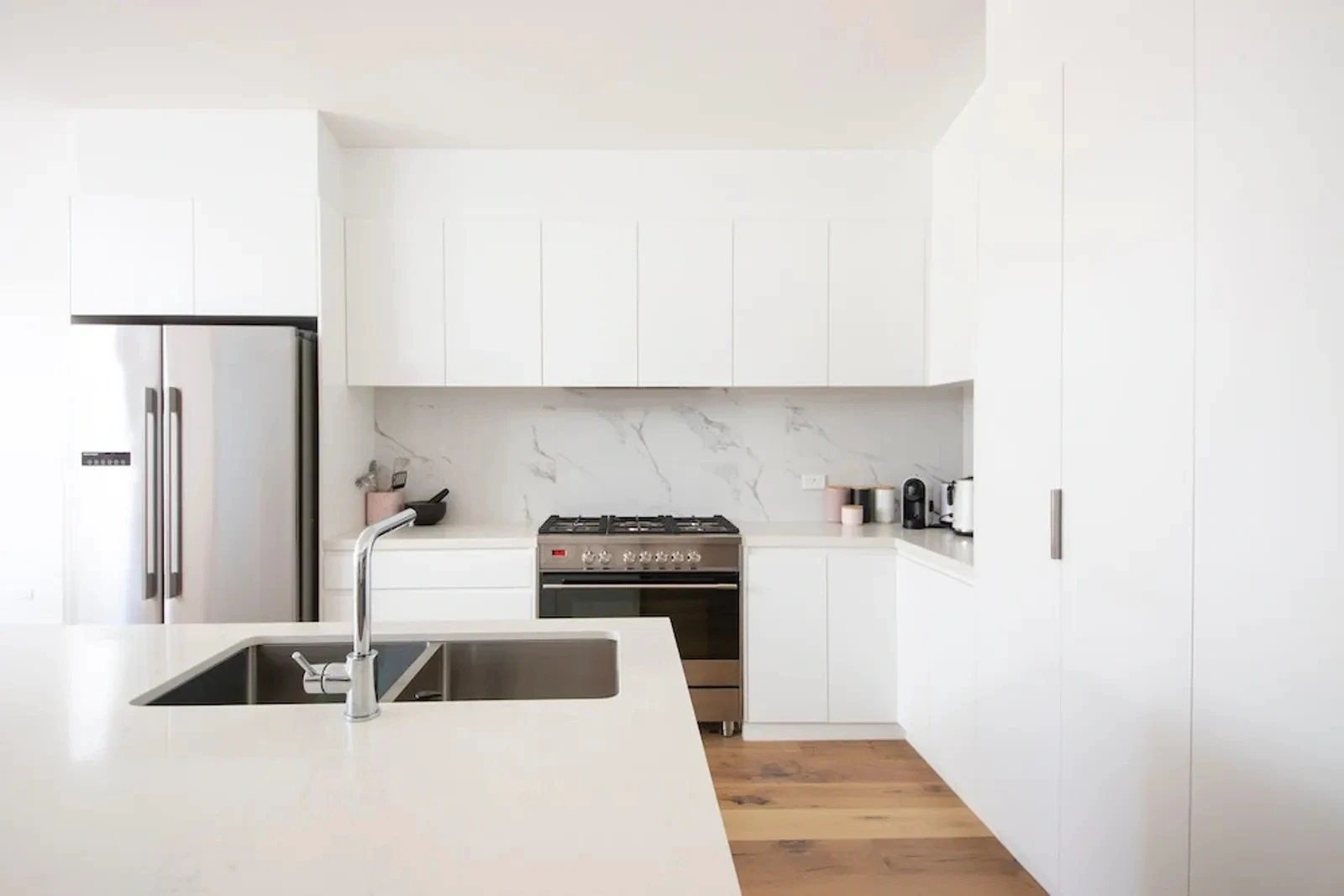 It's a simple, drama-free kitchen that's just right for someone who doesn't want any appearance of visual activity. When the lights come on at night, that's where its peaceful note shines.
Never-Ending Kitchen
Step into this kitchen, and the first thing you notice is an immediate dominance of the cooking area. The dining area is tucked away from all the cooking activity in the kitchen and demarcated by the wood shiplap.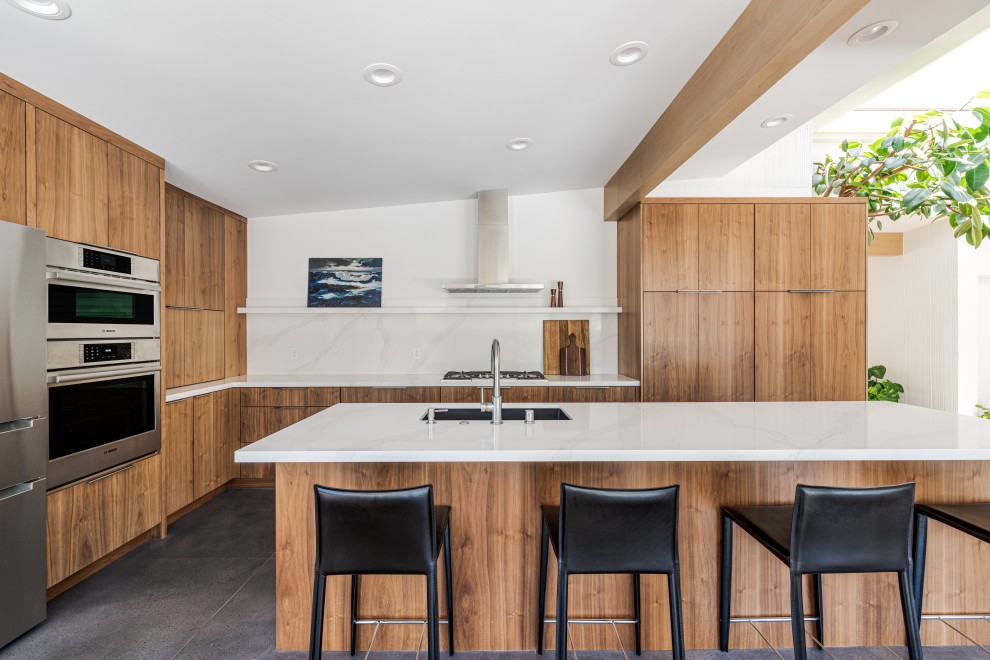 Additionally, the wood beams are a respite for anyone who abhors parading their beams. Expertly, the matching ceiling and cabinets extend the height of this kitchen.
Sketch Artist
Connect-the-dot and pencil sketches are what come to mind in this unusual kitchen by Rebecca Rollins. The black and white mirrors the moment before an artist's brush touches a ready sketch.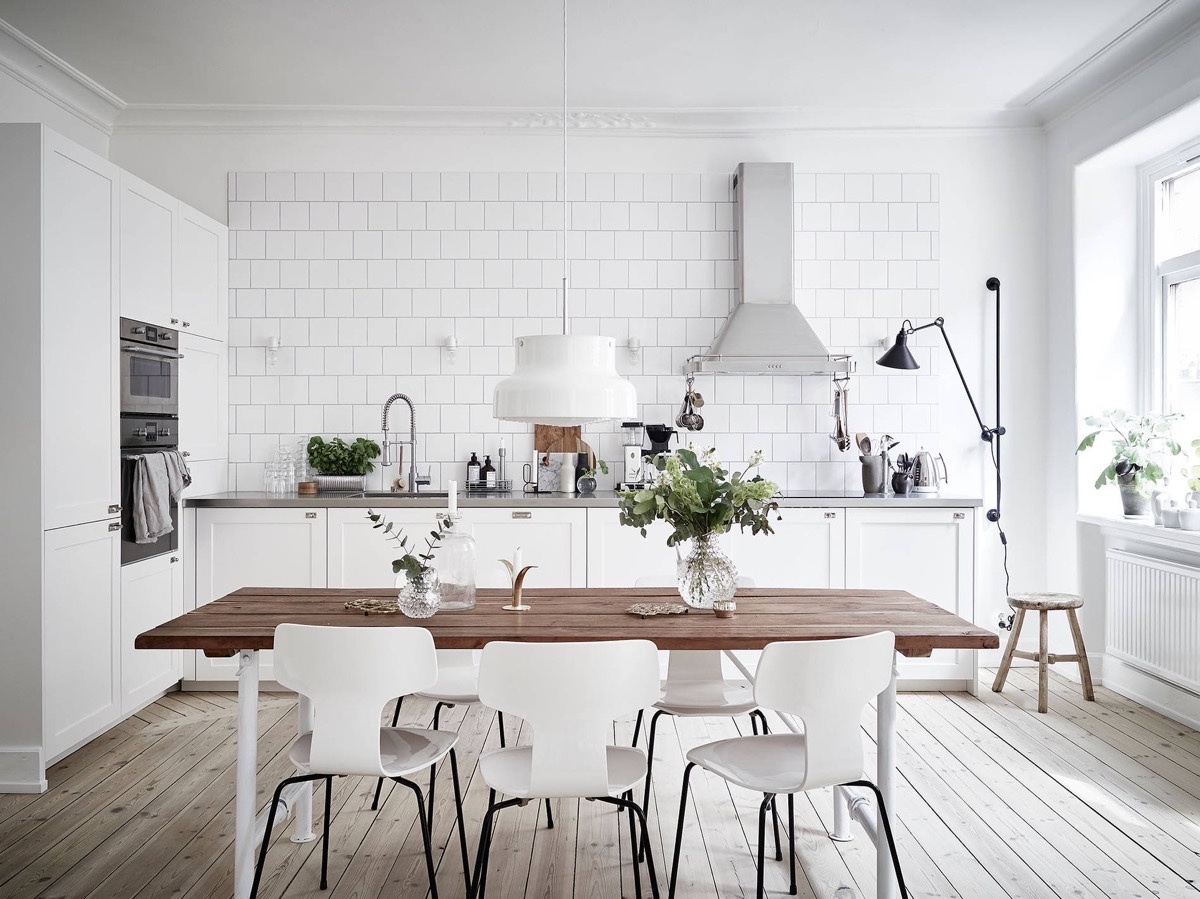 More so, the exposed stained wood floor expresses the boldness of this design. Taking this even further is the choice of a brick backlash that ties in the entire look.
Chess Haven
Dare to be different with this picturesque kitchen design by Imani James. The unforgettable checkered floor is a fun way to create a delightful experience for anyone who enters the kitchen.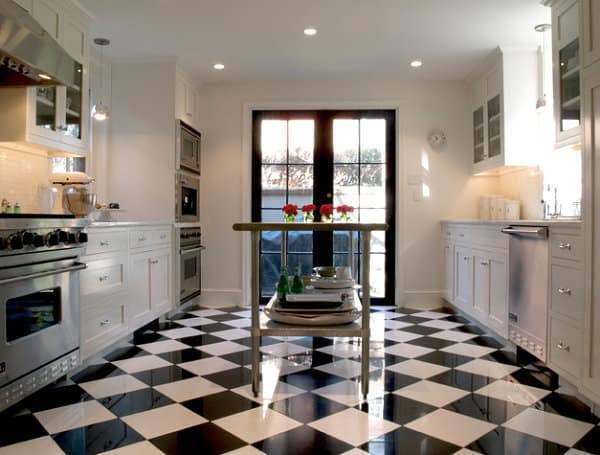 Furthermore, the skewed checkered floors will surely pique the interests of grand chess players. It presents an interesting yet challenging space as chess moves run through their mind.
A Cozy Square
Designing a square kitchen isn't always as easy as it looks, especially when you're pressed for space. One way to expand the space is to line up your cupboards along the walls and place a circular dining table beside your island.
Speaking of small spaces, the built-in wall cupboard is a genius solution for maximizing the space. In addition to this, the door handles match the cabinet's color and creates an almost invisible cabinet.
Open and Expansive
This kitchen by White Sands co-opts the sea for this decor with ease. The grey seats, vertical cabinets with transparent glass, and sky blue ornaments combine to give an open, expansive feel.
An ideal would be the greenery and color from the fresh flowers stationed around the kitchen. Also, a wooden fruit bowl adds a pleasant touch to this already stunning kitchen.
Craft and Nature
Crafts and nature are a unifying theme in this kitchen by Pure Salt. The window blinds, antique jug, and dining light fixtures are made from natural materials and support your care for the earth.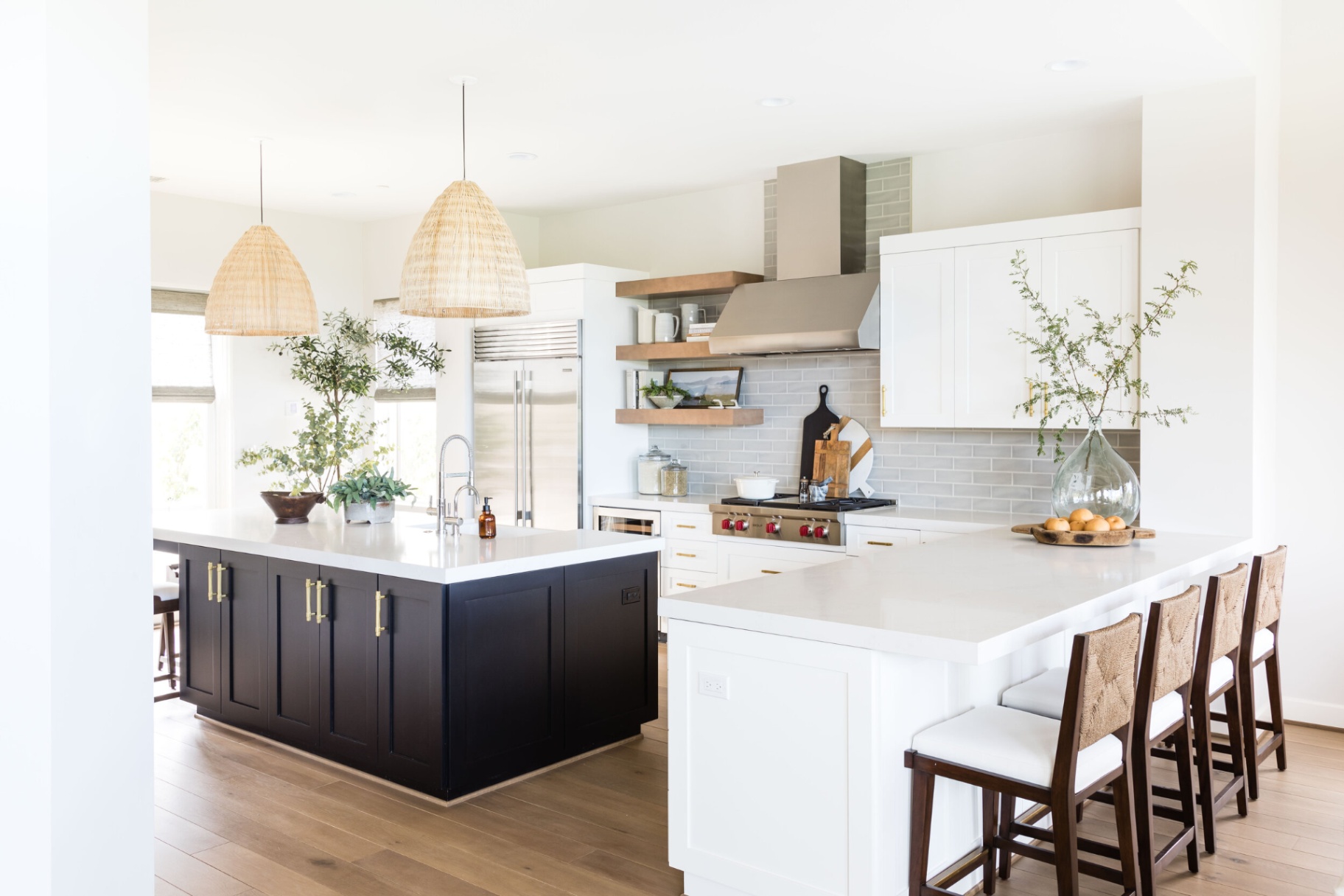 For good measure, the dark island and dining chairs even out the light bouncing around the kitchen from the wide windows. Overall, an airy kitchen is what the colors, pendant light, and stained wood floors present.
An Unusual Fridge
Most kitchens sport the usual stainless steel fridge but not this one. While there's nothing bad about keeping it classic, this curved fridge makes a fine contrast with the squared cabinets.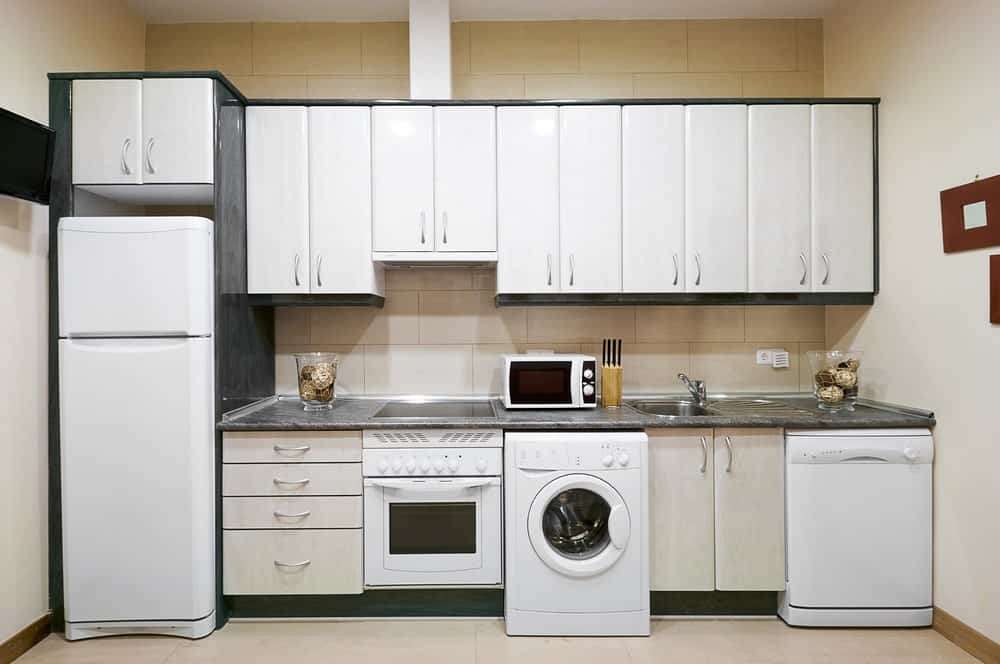 What's even more interesting is the large tile backsplash and reflective marble, exuding a sense of calm and peace within the kitchen.
Carpet Exhibition
If you love carpets, then you'll love this kitchen. The elaborate carpet is positioned as the center of attention, drawing eyes and bringing calm. Adding potted greenery in rustic pots accessorizes the carpet beautifully.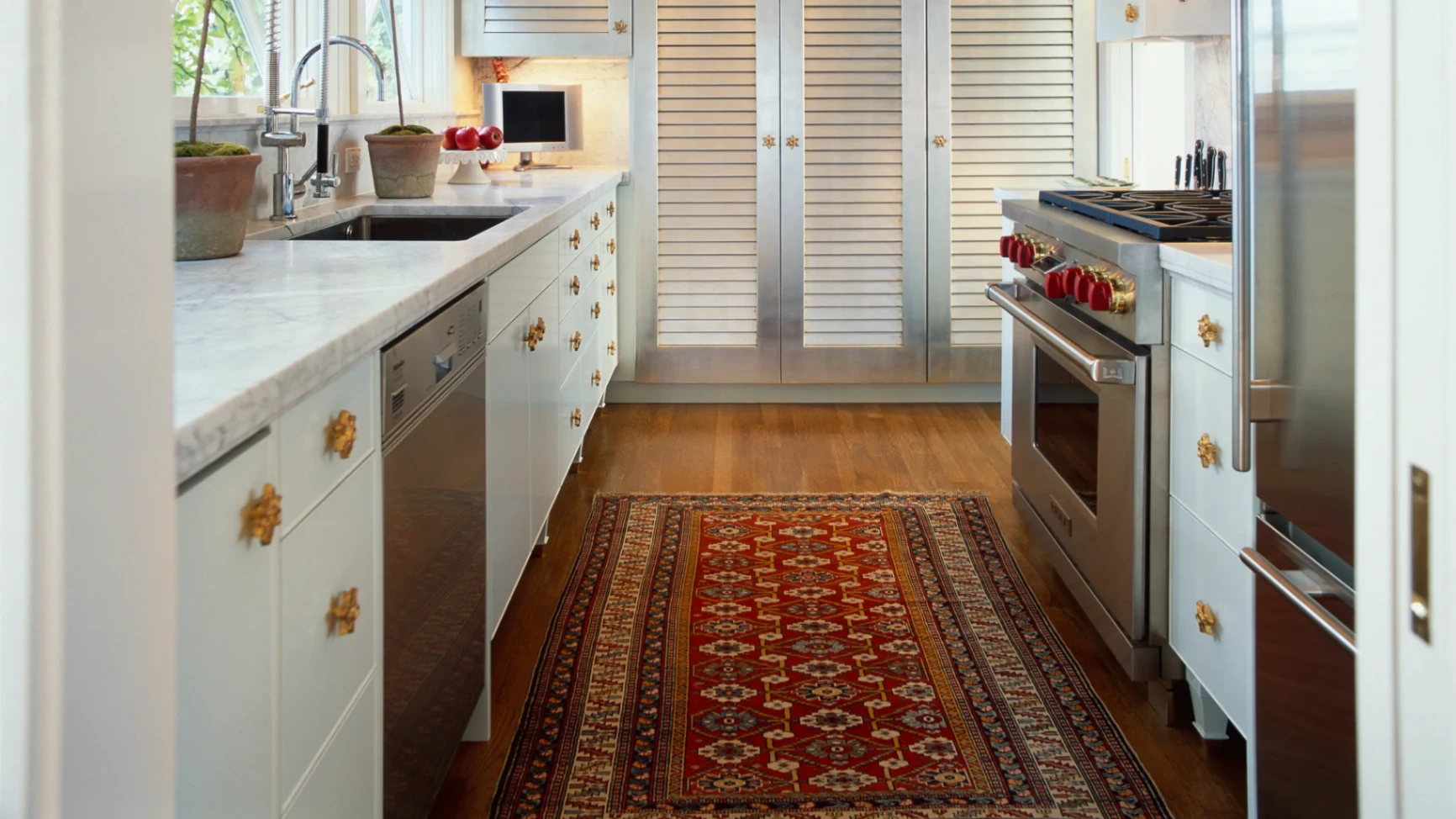 Lines also feature effortlessly in this design and frame the carpet as the star. When you don't have a wide kitchen, take advantage of leading lines from white cabinets and the fridge with dark accents.
What's Outside
Whether there are carvings along the edges of glass cabinets that let you see inside or not, interesting twists to kitchen cabinet designs are always a welcome development.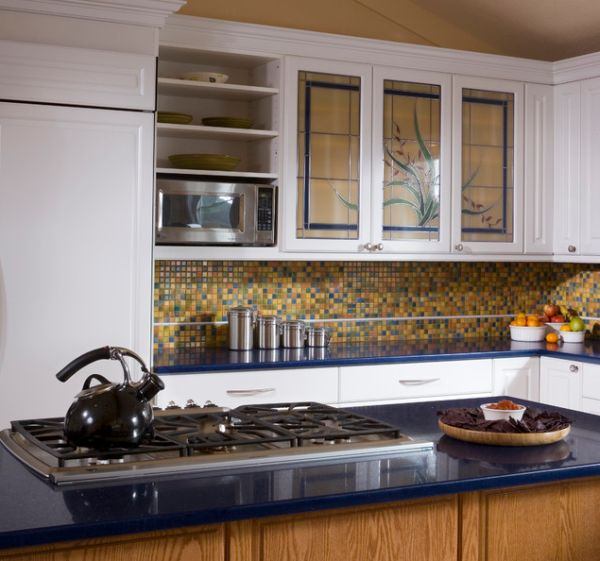 This kitchen by Christina Kim maintains a see-through feel with nothing to hide.
The glass cabinet don't restrict you to what's inside. Rather, it welcomes you to admire the entire contents of the kitchen.
The Right Color
Minimalism doesn't always have to mean white, black, and brown. Sometimes, the occasional mint green cupboards and subway backsplash draw your attention.
The choice of pendant light fixtures here is a simple yet compelling addition to the space. This choice enhances the kitchen's calming, minimal and homely features.
Conclusion
Whether you enjoy cooking or not, you need a kitchen that's easy on the eyes and allows you to explore your inner chef.
We hope you found these beautiful kitchen designs helpful and that they inspire you to create a masterpiece of your kitchen and meals. There can be a lot to take care of in the home from folding clothes to cleaning the bathrooms, so let these beautiful kitchen designs take one thing off your list when you are looking to remodel.