Google has made it easier to explore a ton of apps and content, all in one place, and all with one fee with the launch of Google Play Pass in 2019.
Google Play Pass allows you to interact with great digital content without advertisements and in-app purchases. Google has shared new updates in recent months that make it somewhat easier to use.
They have added about 150 new titles to the Play Pass list, ranging from racing games to drawing applications, and continue to add fresh content each month. Keep reading to find out more about Google Play Pass and how to use it.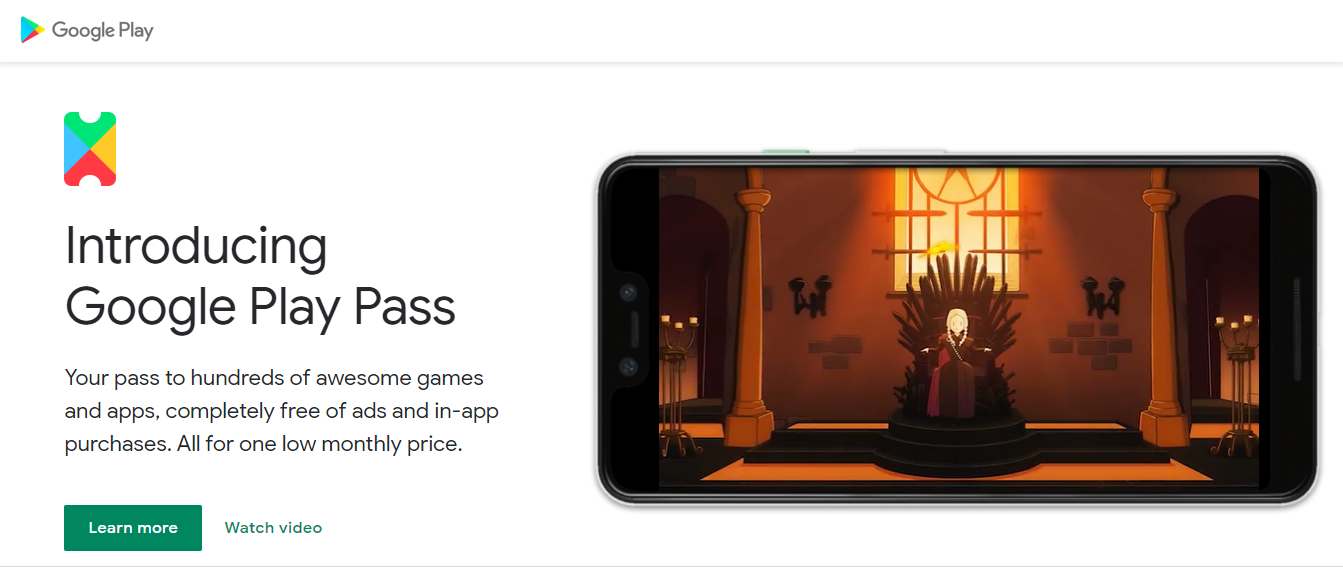 What Is Google Play Pass?
Google Play Pass is a new subscription service, totally free of advertising and in-app purchases, providing access to hundreds of applications and games.
A high-quality, curated selection of titles is supported by Play Pass and updated regularly. Well-known apps and games such as Terraria, Monument Valley, Risk, Star Wars: Knights of the Old Republic, and AccuWeather can be found.
And others that you might be unfamiliar with, including LIMBO, Lichtspeer, Mini Metro, Old Man's Journey, and many more, are just as great. Subscribers can now also discover classics such as Sonic the Hedgehog.
You'll also find stress relievers like Golf Peaks, and a robust roster of award-winning Indies such as Teslagrad, Sally's Law, and Forgotten Anne, all included with your subscription and without advertisements or in-app purchases.
How Does It Work?
Google Play Pass allows users to download hundreds of games and apps that would normally cost between $0.99 to $9.99 each for one low fee.
The subscription also enables you to access in-app purchases and expansion packs that would usually cost gamers extra.
You will not be able to download and own one of the apps in a typical way if you are currently subscribed to Play Pass, it will only be linked to your subscription.
Developers may opt to delete their apps from Play Pass, but for a period of time, current app owners will be able to continue using the apps in their present form.
How to Subscribe to Google Play Pass
Google Play Pass is only available in limited markets at the moment. Keep checking back for international availability. Make sure you have a US Google Play account and have a Google Play credit of at least $1.99.
You can buy it online from G2A.com or other websites if you don't have a Google Play credit. You can also use the G-Cash AMEX credit card to buy your credits too.
If you have credit already, simply open the Google Play Store app, tap the menu, then tap Play Pass. Tap the Start free trial button and confirm your subscription.
You'll get a one-month free trial, and after that, you'll be paying $1.99. The first year is just $1.99 a month and you will be billed $4.99 after one year. Up to 5 family members may share the subscription.
Final Words
If you usually pay more in total for apps, games, and in-app purchases than the subscription price, Google Play Pass might be worth it. It must be noted that when you unsubscribe, access to your apps and game is disabled.
You can sign up for a few months and then delete your account, but just remember that any info you save on any new apps will also be lost. And if you download the app outside of Google Play Pass, you still can't access your old information.