If gaming is more than a hobby for you, then you need to know about Overwatch League matches. You can participate in their matches and earn clout and coin simultaneously.
For its accessibility, varied appeal of its hero characters, vibrant cartoonish art style, and fun gameplay, Overwatch earned stellar reviews from critics.
During the first year of its release, it had a revenue of US$ 1 billion, and after three years, it had more than 50 million players. It is regarded as one of the best video games of all time, with many awards as the game of the year.
Known as a "hero shooter," Overwatch assigns players into two teams of six, with each player choosing from a pool of more than 30 characters, referred to as "heroes," each with a distinctive playing style split into three general roles that suit their purpose.
The game is also a renowned Esport, with the global Overwatch League being produced by Blizzard. More information about the League Matches is to be found below.
What is Overwatch League?
The Overwatch League is an international Esports league that includes 20 city-based teams, boasting the world's best Overwatch players. The regular season of 280 matches begins in February and ends in the fall with playoffs.
With US $5 million in prizes, exciting narratives, assured player wages, and state-of-the-art production value, the Overwatch League is the world's leading league of esports.
A minimum wage, benefits, and revenue sharing are provided to contract players on these franchises.
The League's first season began in January 2018, with teams competing for a US$ 1 million league champion prize with other wins from a US $3.5 million overall prize pool.
The second season added in an extra eight franchise for a count of twenty. Roughly all games outside the finals have been played in the first and second season at Blizzard Arena in Burbank, California.
The third season of the game saw teams moving around the globe between homestand events more typical of league structures.
2020 Season Format
A team plays a total of 21 regular season matches. The regular season, which will include three regional tournaments, will be played for 29 weeks.
In the 2020 Playoffs, which began on Thursday, September 3, with online matches split into two regional brackets in Asia and North America, all 20 Overwatch League teams will have the chance to compete.
In a first-to-three map winner format, teams will play regular-season matches.
Winning a map earns a team one map win.
Draws do not count as a map win for either team.
Teams will continue to play until one team achieves a third and decisive map win.
After every two maps are played, teams will get a quick break to strategize.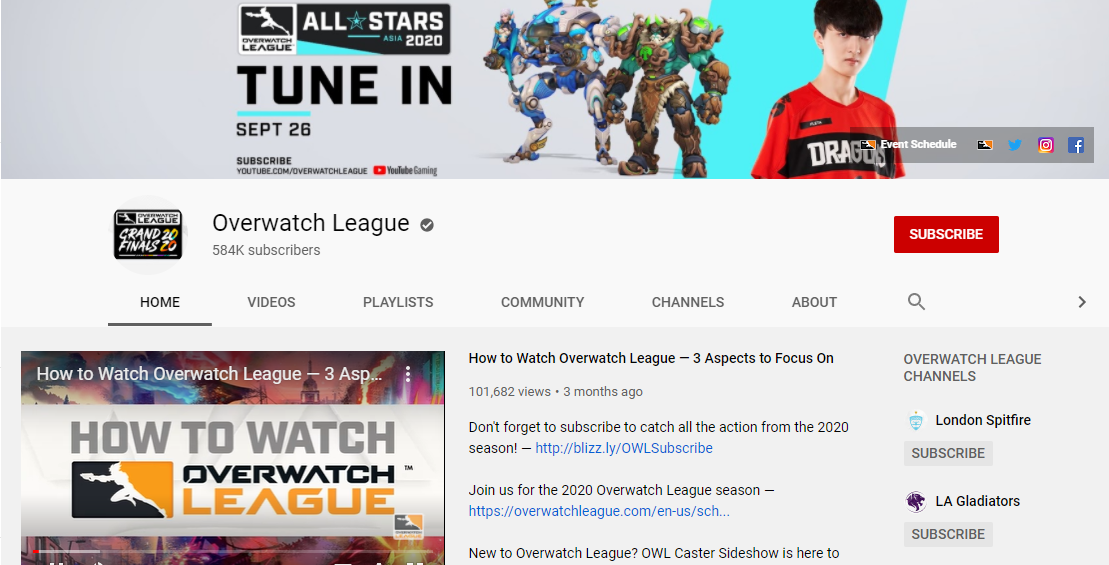 How to Watch
Matches will air live on YouTube, OverwatchLeague.com, and the Overwatch League app during the season. You can download the official app, set reminders for the next matches, and be ready to experience the world's top esports league.
With a multi-year contract to offer world-class live streaming for their fans, the Overwatch League has partnered with YouTube.
YouTube is now the league's official streaming partner, the gateway to all live and on-demand Overwatch League matches. With home matches in New York City and Dallas, it began with its 2020 season-opening weekend.
The Overwatch League YouTube channel will also host other exclusive video features during the season and beyond.
In addition to hosting all the matches. 2020 Overwatch League matches debuted last February 8 on youtube.com/overwatchleague.
Final Words
On the Overwatch League website, mobile site, and app, you can earn League Tokens by watching live matches. After each hour of viewing, League Tokens will be available on your Battle.net account.
There are 20 international teams in the Overwatch League, each with their own culture, identity, and distinctive colors. Who are you going to cheer for?