A kitchen is used by a homeowner to perform a wide range of daily tasks. From preparation to serving and even storage, a well-outfitted kitchen can make all the difference in convenience, efficiency, and comfort. The most beautiful modern kitchens seem to balance appearance and functionality in perfect harmony.
With sleek stainless steel appliances and granite countertops, it's no wonder these kitchens are some of the most stunning on the market today. Today's article will look into the 20 most beautiful modern kitchens. If you plan for a kitchen renovation, this might be for you. Without further delay, let's get started.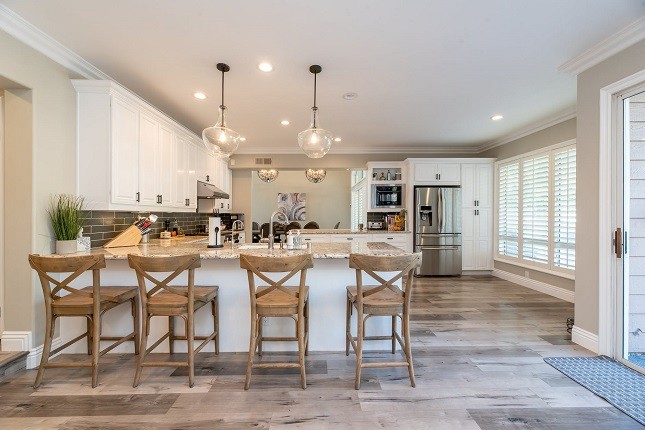 Warm Wood Element
The warm wood element kitchen combines warmth, simplicity, and sophistication to create the perfect balance of style and function. The wooden countertops add a refined rustic feel. On top of that, the modern appliances and light wood-finished cabinetry give your home an old French country home.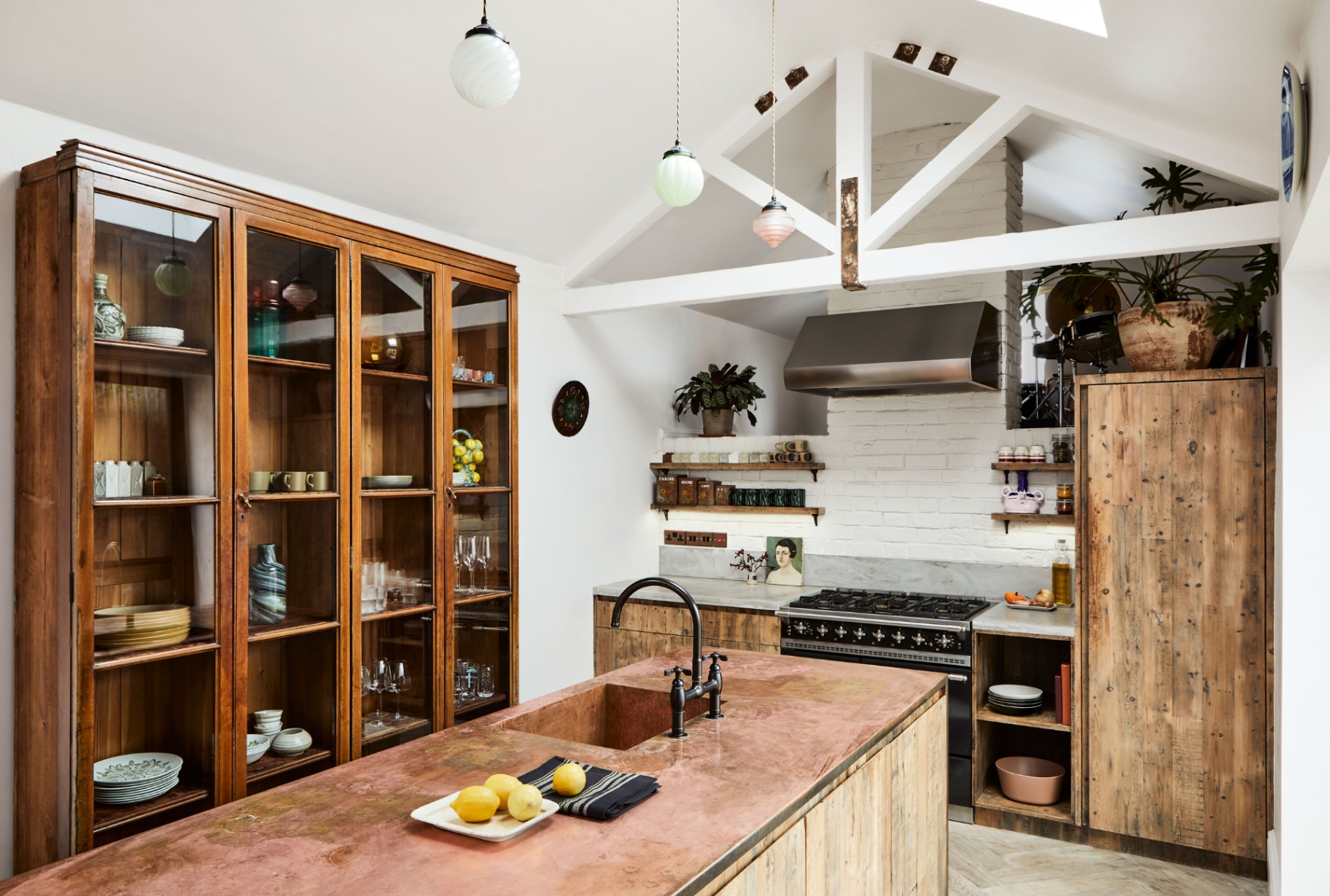 The kitchen is the hub of your beautiful abode. However, the kitchen serves several other purposes, not just for eating – it is a place where your visitors gather, work on your homework, and spend time cooking.
A modern kitchen with a streamlined design and no clutter might seem like a dream. But it is possible—a kitchen that is inviting and functional.
Classic Stainless Steel Kitchen
The stainless steel kitchen line is built with classic stainless steel appliances to add timeless charm to your home with its classic appearance. This series is ideal for use with stainless steel cleaners such as mild abrasives or liquid dish soap for easy maintenance. When you want a kitchen with a modern flair, this is the stainless steel choice.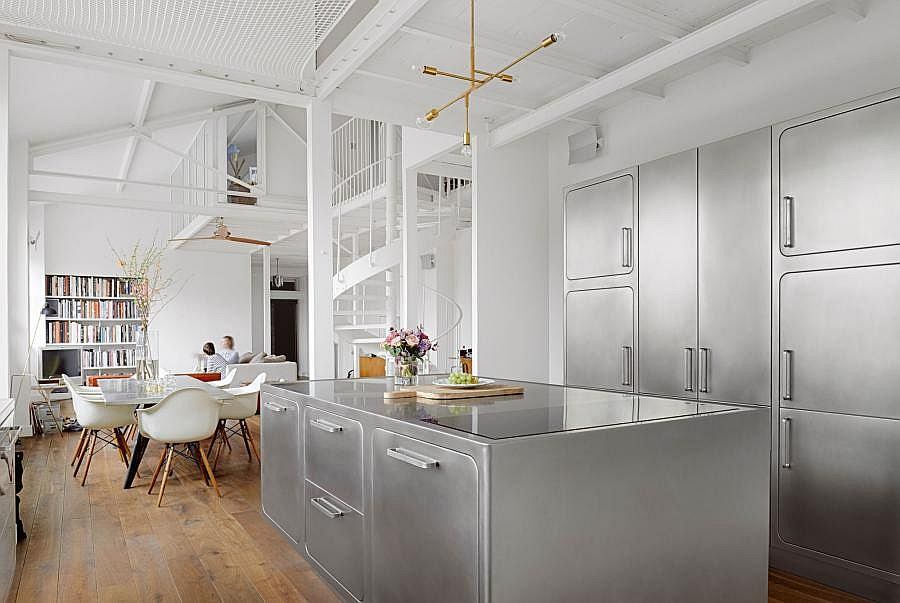 By adding the Stainless-Steel kitchen line to your home, everything about your home will be streamlined and beautiful.
From the high-ceiling dining area to the spacious, airy living room, this kitchen is perfect for entertaining guests or spending time with family.
Double Islands Kitchen
Sure to be the talk of your next dinner party, this double island kitchen brings great cooking to your guests without sacrificing the counter area.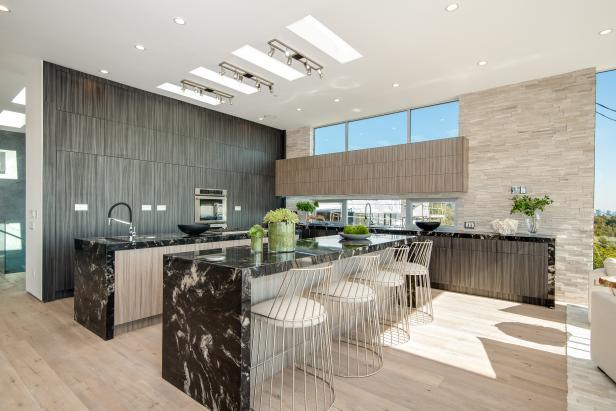 This picturesque, contemporary kitchen also features dining and living space, ample storage, and a barstool-equipped counter.
Antique Character Kitchen
Bring the look of your favorite antique country kitchen inside with this unique cooktop. It will add warmth to the open and airy space.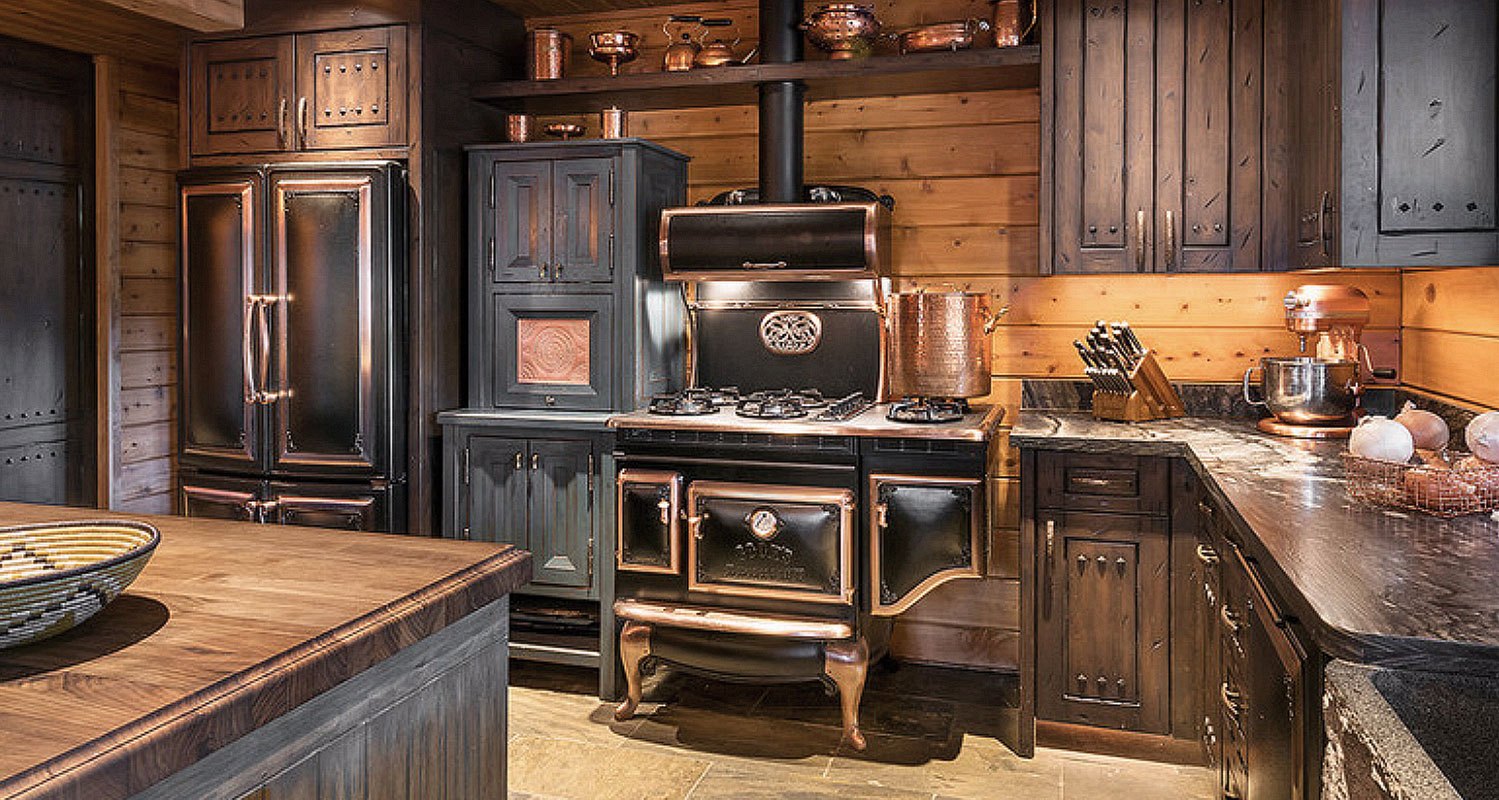 It retains the charm of an antique, but its new state-of-the-art technology ensures reliability and efficiency.
This kitchen is designed to make you feel nostalgic, with antique-style hardware and a mahogany island on the top. It also features lots of storage, making it perfect for everyday and entertaining purposes.
White Minimalist Kitchen
Inspired by clean and minimalistic design, this kitchen emphasizes the beauty of high-end contemporary appliances in a monochromatic white color palette.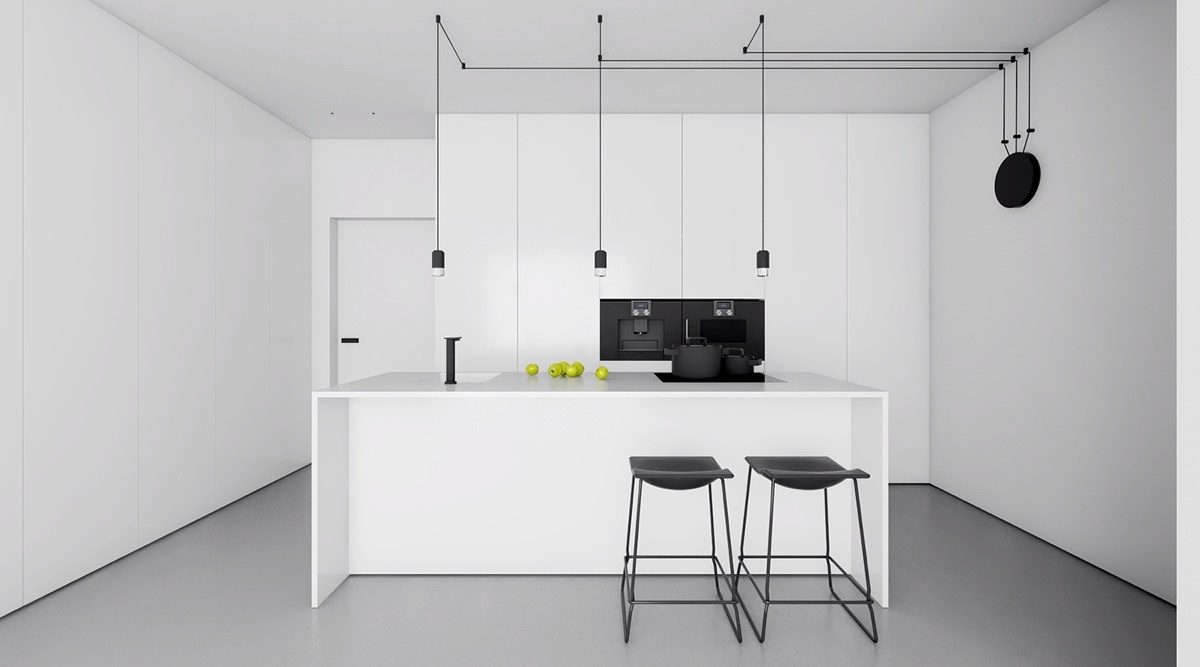 With a monochromatic palette, a low-profile cooktop, and no presence of non-essential appliances, the kitchen exudes a modern aesthetic. This white kitchen is sure to please even the most discerning homeowners.
The best part about the minimalist island kitchen is that it shows off clean lines and a linear aesthetic.
Quintessential Bertoia Stools
Are you ready to experiment with your interior design? If so, we recommend this incredible kitchen island set in white and brown tones. Designed to blend effortlessly in any kitchen layout, sleek counter stools bring fashion and function to your eating area.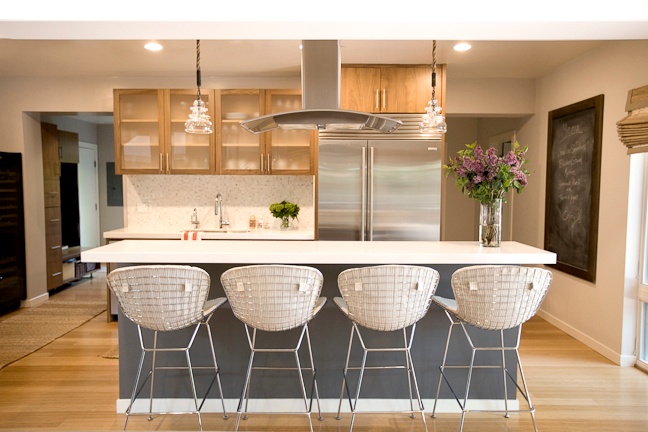 Featuring a bright, white kitchen island and two glass pendants above, this is the perfect spot to enjoy a relaxed meal with friends and family.
Moreover, the kitchen island is lined with Bertoia stools with a sculptural shape that makes them an enduring piece of design.
Modern Breakfast Nook
​​When you need to get the job done while preparing and finishing your meal, a well-equipped kitchen and working area would be very handy.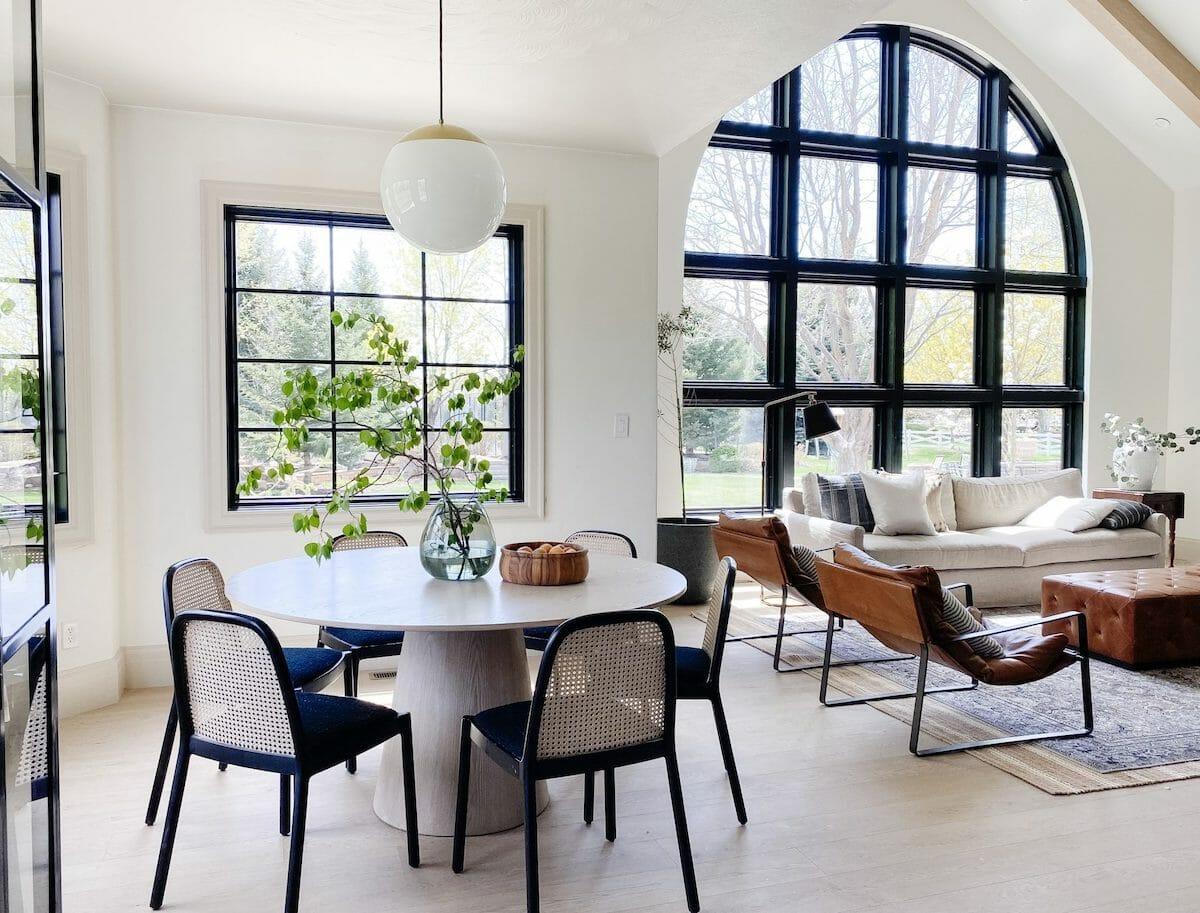 This kitchen layout brings together all the necessary comfort needed for a perfect working-from-home experience.
From a beautiful working desk and sunny breakfast table to a plush sofa for entertaining guests—this particular kitchen is the perfect work-from-home kitchen space.
Glamorous Brass Kitchen
Your kitchen does not always have to be serious. Add a touch of glam to your cooking area with this all-white kitchen featuring a mix of brass— one of the hottest trends right now. The revamped look of the all-white kitchen benefits from the well-placed brass accents.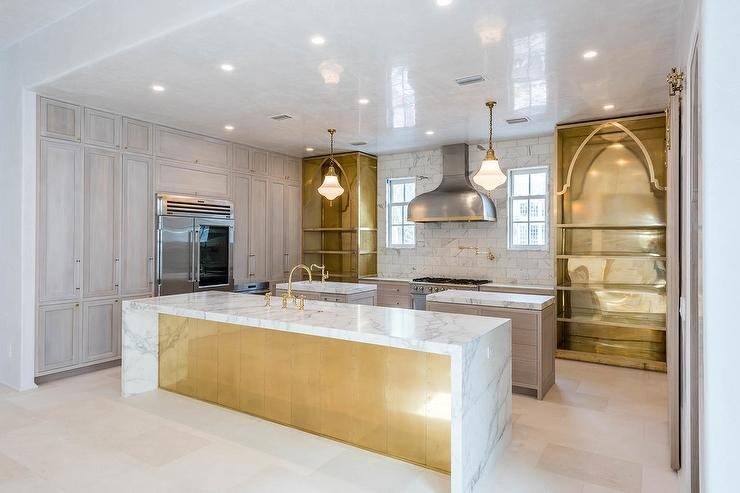 With the right amount of brass details, this particular sleek design will make everyone take notice of your kitchen.
The stainless steel hood with a brass accent brings the look together perfectly. And the best part is you don't have to break the bank for this glamorous look.
Cheerful Colored Kitchen
Modern kitchens do not always have to be neutral. Instead, give your kitchen a cheerful lift with bright and exciting colors. The most impactful feature of this kitchen is its bold orange wall, which exudes a cheerful vibe that takes the room to another level of excitement.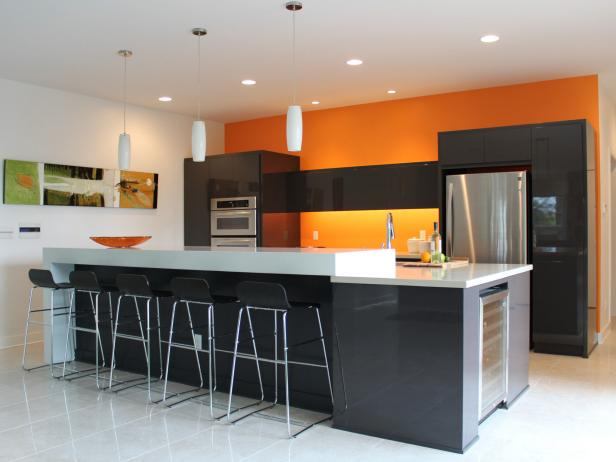 It pairs perfectly with the black cabinets and white countertop, adding a dramatic but elegant pop of color that makes it stand out in a crowd.
Also, adding artwork that resonates with you can take your kitchen from ho-hum to something special.
Iconic Barstools
A kitchen is never incomplete without a few stools to sit on while having your food. It is also equally important that these stools have some modern touches—one of the easiest ways is to get some iconic steel barstools.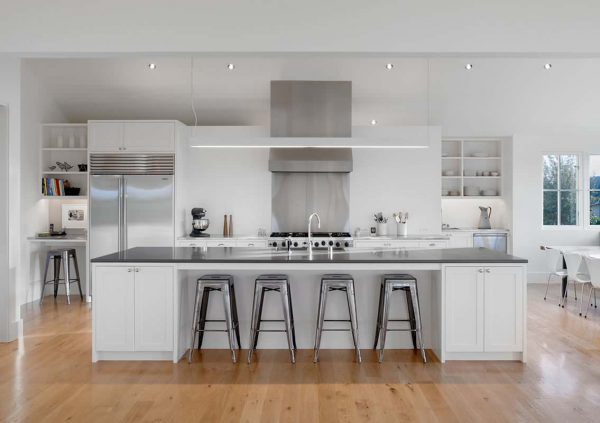 The white base and chrome-plated metal accents perfectly showcase the clean, industrial feel of the space, while making it look more accessible and comfortable.
Designed for every day, these iconic barstools are simple yet very stylish.
Eclectic Style Kitchen
Eclectic-style kitchens are fun and dynamic—they can be playful, brightly colored, or full of brights and neutrals. In addition, diverse kitchen designs can use several colors and texture combinations.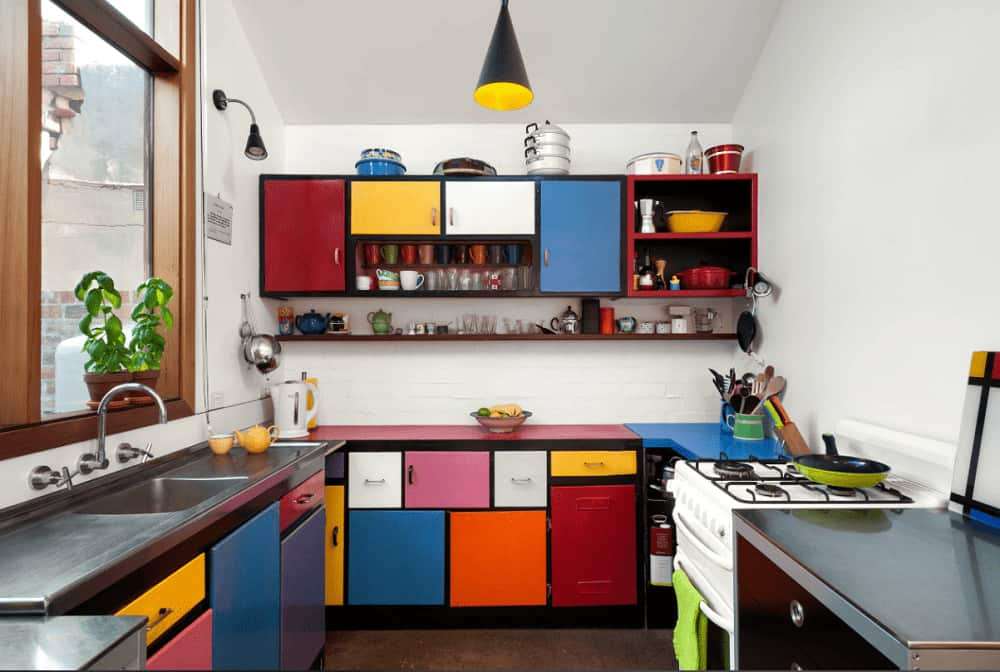 This colorful and functional kitchen features a blend of unique cabinets, bringing warmth and energy to mealtime.
And, no doubt, they are both fun and functional.
Textured Design Kitchen
Tired of the same old kitchen look? Give your kitchen a fresh new look with this textured design kitchen.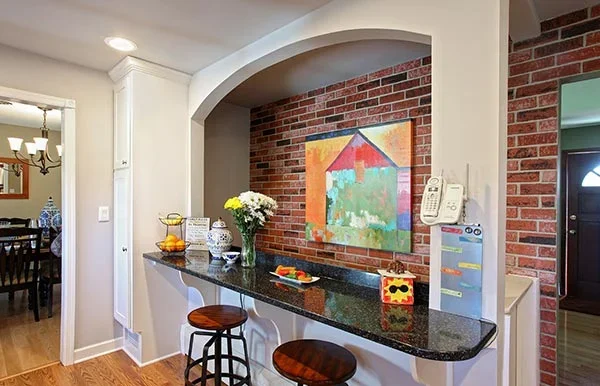 The vibrant artwork and red-bricked wall give an artistic touch, which will definitely liven up your space. The cold red-bricked wall gives the room a modern look and feels, while the black countertop brings in a rich and elegant touch.
The space is open to the room with a dining table which will help you make memories while sitting down with friends or family while cooking together.
Industrial Modern Kitchen
The modern kitchen blends industrial features with modern touches like stainless steel appliances and sleek hardware for a beautiful space.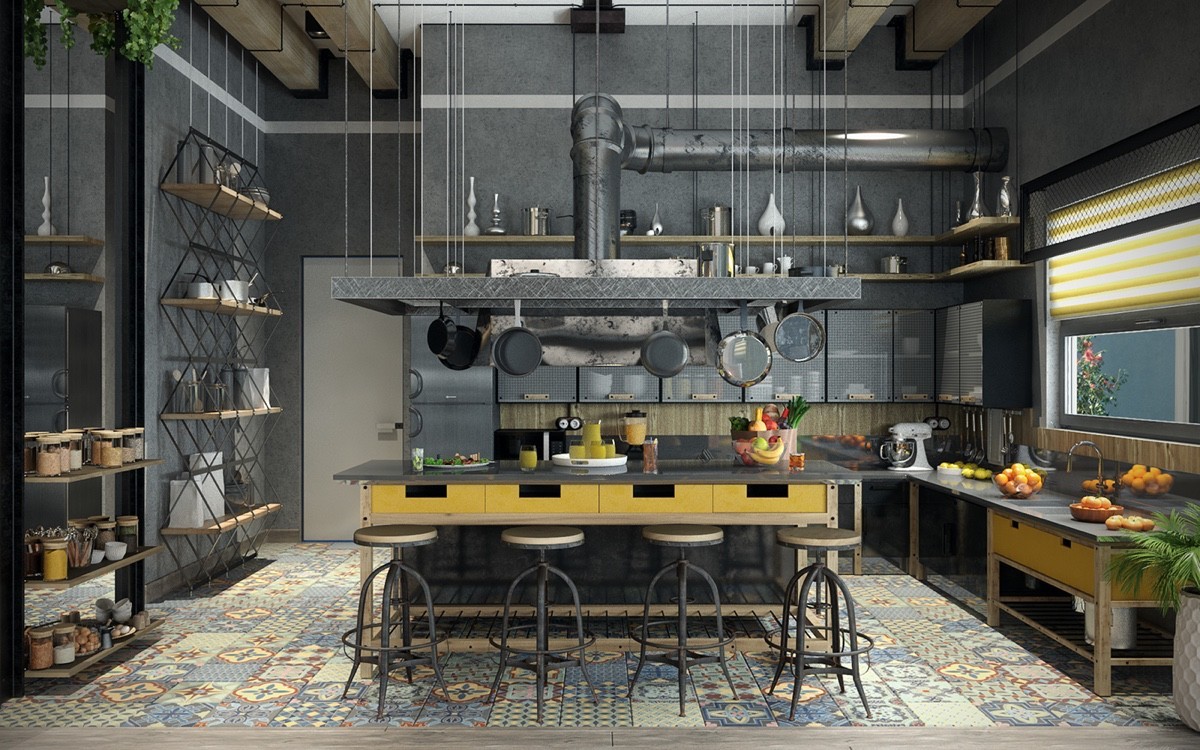 A modern pendant light fixture illuminates the countertop, while plush stools seating ensure everyone has a place to sit and enjoy their food. Carefully selected materials like sleek countertops and luxe floors create a peaceful atmosphere to cook in.
No doubt, the industrial modern kitchen is a serene space that balances practicality and style.
Black and White Kitchen
​​Black and white is a classic combination that never goes out of style and will be a perfect way to add contrasts to your cooking area. Additionally, it also gives the kitchen a sophisticated accent.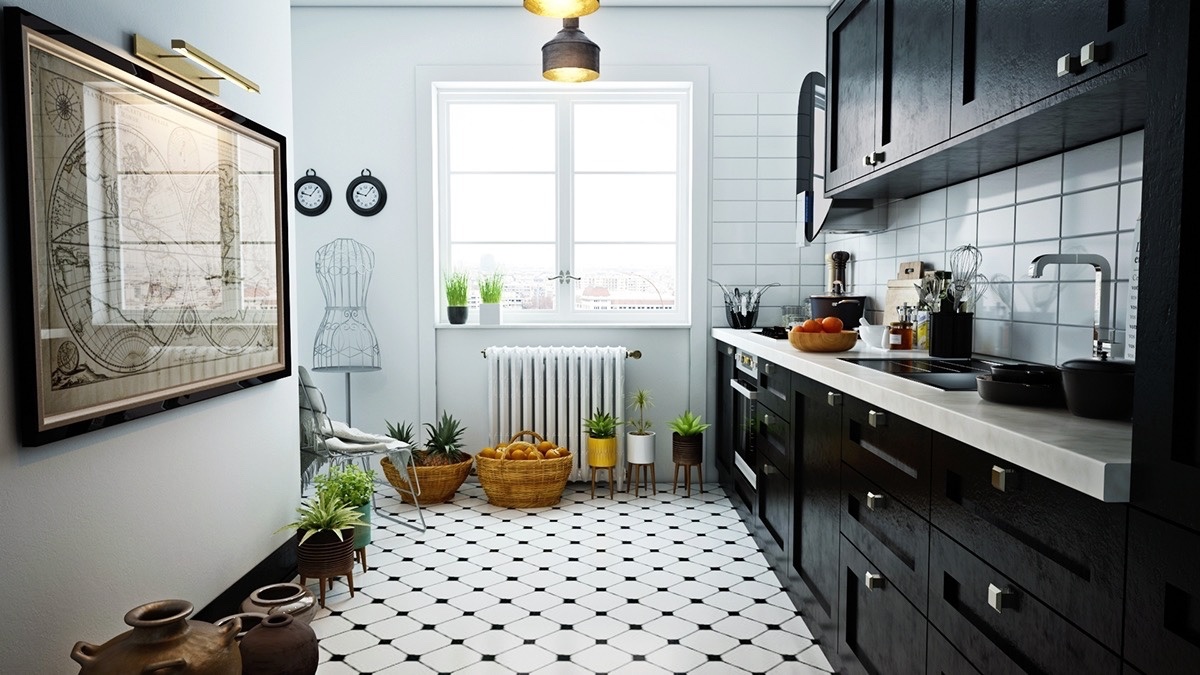 This kitchen features a black and white checkered floor to help make better use of the limited space. Black cabinets, along with the illusion of a larger space, help to fill the room visually.
Moreover, white backsplash tiles add depth and shimmer against all the black surfaces, enhancing the modern feel of this design.
Rustic Meets Modern
This kitchen combines rustic and modern elements in an upscale way. The kitchen is the heart of any home, so it should be a place you love to cook in.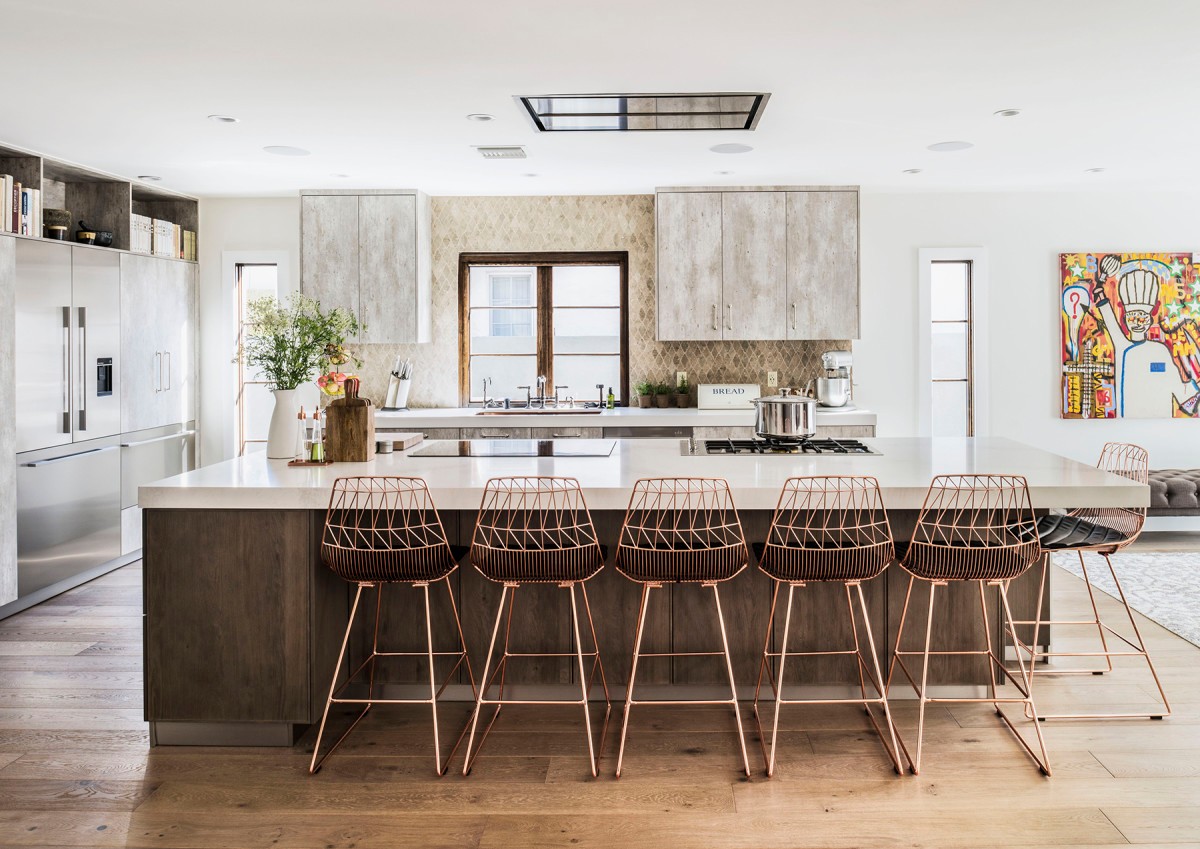 This rustic meets modern kitchen includes a large white countertop with a cooktop, creating the perfect cooking space for any budding chef.
The focal point of this space is the addition of Bertoia stools, which adds visual interest while keeping things organized.
Open Shelving Kitchen
The open shelving kitchen design is one of the most popular minimalist layouts. Open shelves in the kitchen are a great way to showcase your cookware and dishes while keeping them within easy reach.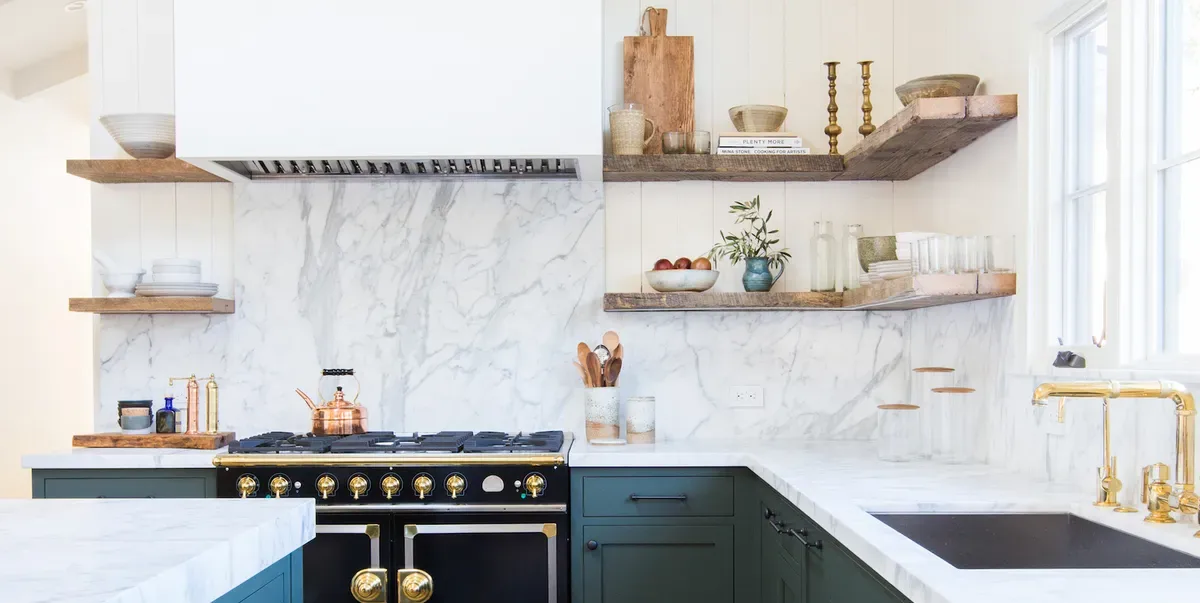 On top of that, an open shelving kitchen is beneficial while entertaining guests.
These kitchen styles allow guests to serve themselves or pour a glass of water without getting up.
Simple Yet Sophisticated Kitchen
There is absolutely no second thought that the modern kitchen is one that is simple yet looks sophisticated.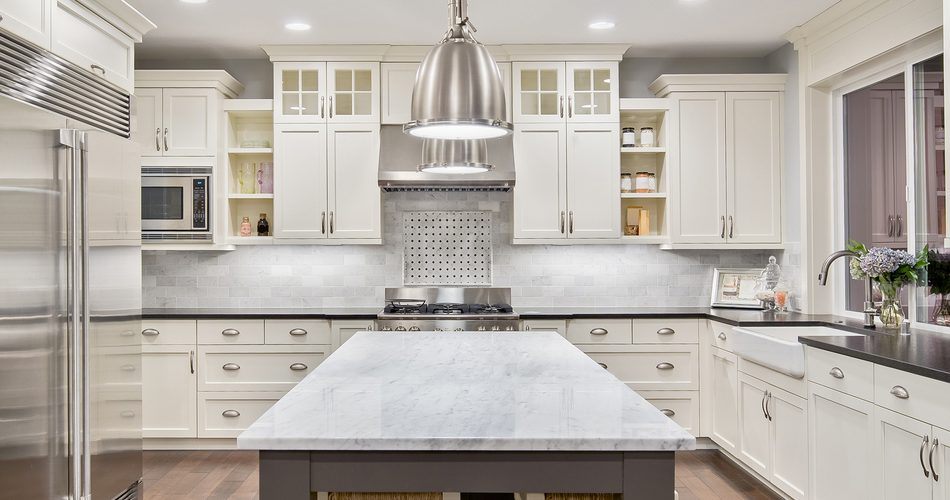 The simple yet sophisticated kitchen style comes with a clean tight-lined design accompanied by a flat center panel and squared edges and requires minimalist and modern fittings and accessories.
With its clean, contemporary appearance and sleek lines, the simple yet sophisticated kitchen has the functionality to suit your lifestyle.
Inspired by Nature
This kitchen is the perfect space to bring the outdoors in.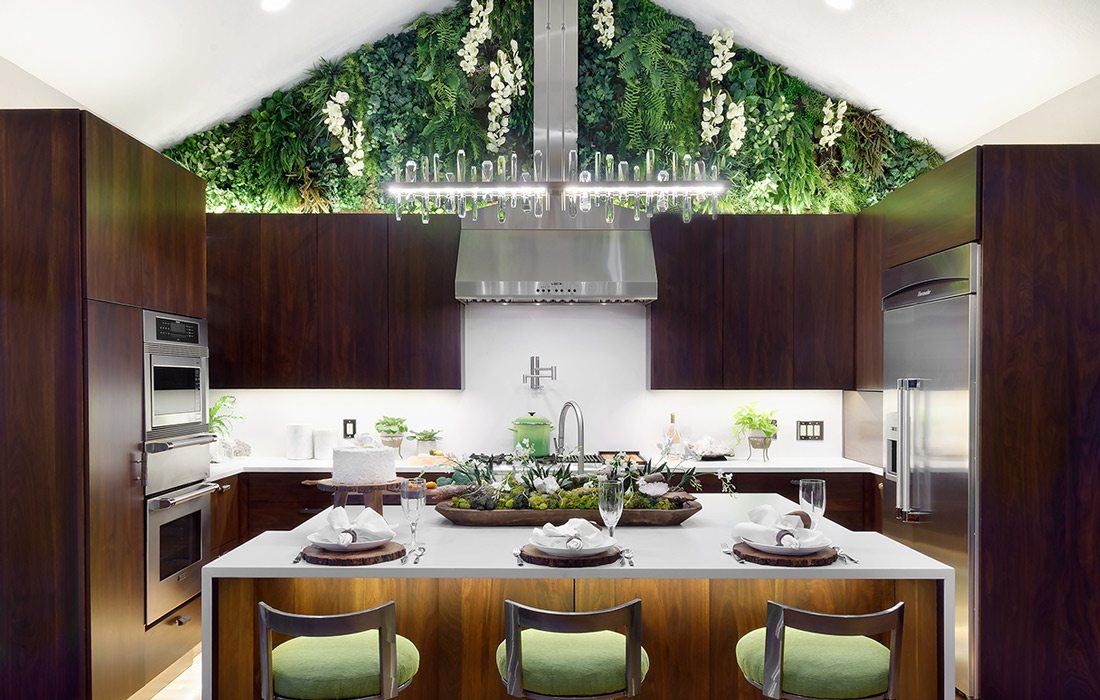 The natural brown colors of woodgrain and greenery contrast beautifully to create an attractive backdrop for your space.
Add lush green plants and stools with green cushions for a fresh look that makes it seem like you could reach out and touch nature from your own home.
Sleek and Striking Kitchen
There is no denying that black greatly contrasts the white hues. For a seamless look, it's best to paint your walls and ceiling the same shade.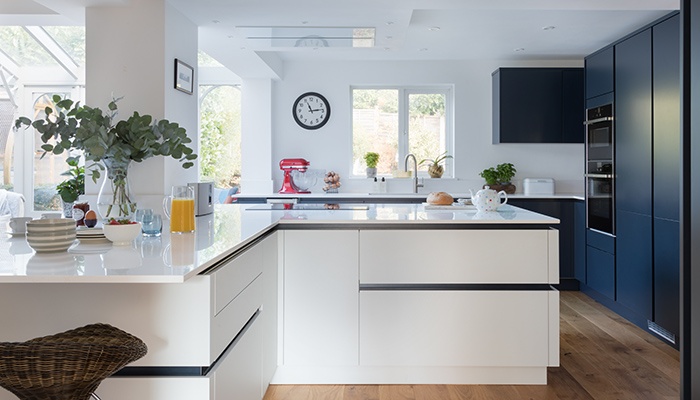 The addition of large windows will bring in natural light and the plants will bring a touch of green to your sleek space.
With some color on your appliances, you'll have yourself a polished, striking kitchen in no time.
Matte Gray Kitchen
Matte gray colors have been trending in interior design lately, and this particular kitchen is a perfect example of it.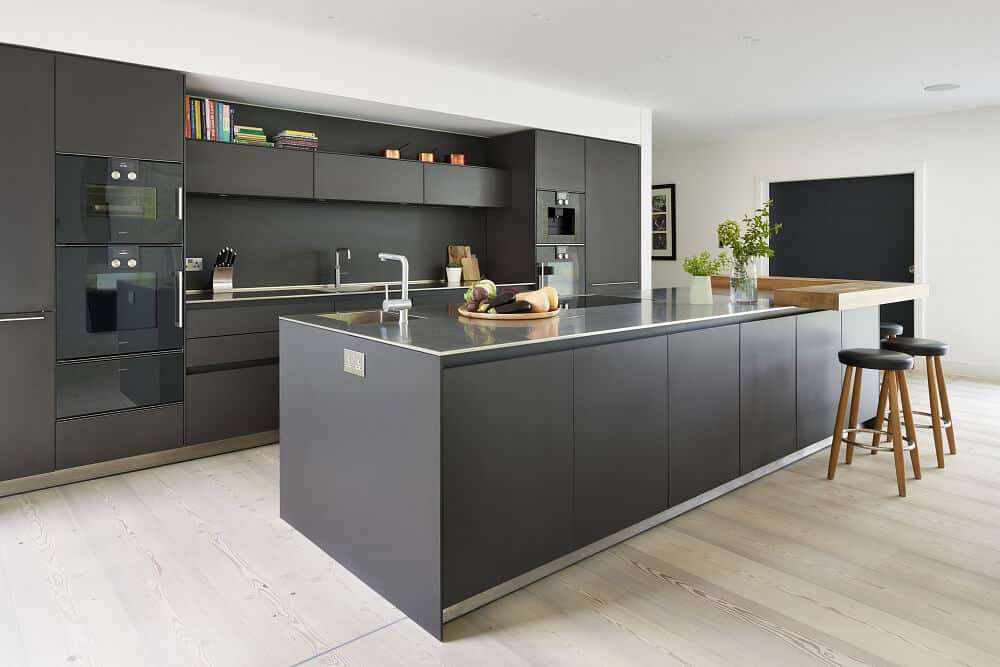 It features everything, from a matte gray backsplash to matte gray cabinets that align with the rest of the color scheme—giving the kitchen a cohesive look.
From the countertop to the cabinetry to the backsplash, this modern interior features many shades of matte gray.
The Bottom Line
To sum up, these are the 20 most beautiful kitchens that you should pull inspiration from when you renovate your kitchen in the future. These kitchens will help you see what you should and what you should not have in your house.