Are you a small business owner who has to open an online store? Do you need quality customer service and a quick-loading website? Yahoo Small Business offers small businesses bargain-priced web hosting.
Yahoo's web hosting plans are filled with everything you need for a fast site. Yahoo Small Business was previously known as Aabaco and is not as well-known as some of its rivals. Yet they already have a large base of customers.
They have the cheapest possible web hosting with tools, domain names, email addresses, and an SSL certificate, thus guaranteeing you have a complete solution. Here's how to use the Yahoo Small Business web hosting service.
What Is Yahoo Small Business?
There have been many name changes to Yahoo Small Business, the umbrella platform that provides Yahoo hosting, local SEO, websites, etc. It is now owned by Verizon.
Yahoo has almost entirely confined to the shared hosting market and maintains its focus on simplistic small business hosting plans.
Yahoo provides three plan options instead of dazzling consumers with numerous choices and loads of technical detail and allows users to choose from.
How to Use the Service
Site builder tools are included with all three plans. On the basic plan, your only option is the basic site builder. This package restricts you to one 10-page website. You have the choice of using a tool called "Site Solution" to help you.
Your site content is built using customizable blocks. You can add a map to your website, for instance, or integrate PayPal buttons. At any time, you can pay for additional blocks or apps.
The other two plans enable you to use advanced site builder tools or third-party website design scripts. This means that using alternative scripts, like WordPress, you can create a website.
Even with a very limited budget, all of this really makes Yahoo a fair one-stop-shop for micro-businesses, freelancers, and startups. Using the site builder, your site will look fine, and when you need it, you have support.
Is Yahoo Web Hosting Right for Your Small Business?
Unlike its competitors, it does not market shared hosting or provide any VPS or dedicated servers. Essentially, if you want to use their web hosting, you also need to use their site-building products,
For several small businesses, what they're searching for is a site builder. You can log in, drag-and-drop your site elements into place as soon as you sign up, and launch your site live that same day.
And for individuals who don't know anything about hosting (and don't want to understand, either), the lack of technical jargon can also be beneficial.
All you do is sign up for a package and you get hosting, a domain, and site-building tools. And you can use everything without having any knowledge of coding.
Pricing
The Basic plan for personal sites and blogs costs as low as $2.59 per month and includes a free domain, 100GB of storage, 1000GB of monthly data transfers, 250 email addresses, and 10 website pages.
The Advanced package is for business sites, and costs as low as $3.89 monthly. It improves on the Basic package by including 500GB of disk space, 500GB of monthly data transfers, 500 email addresses, unlimited website pages, WordPress support, and "virtually unlimited" databases.
The Premier plan, for websites with high traffic, costs as low as $4.89 each month. It adds unlimited data transfers, unlimited storage, and private domain registration.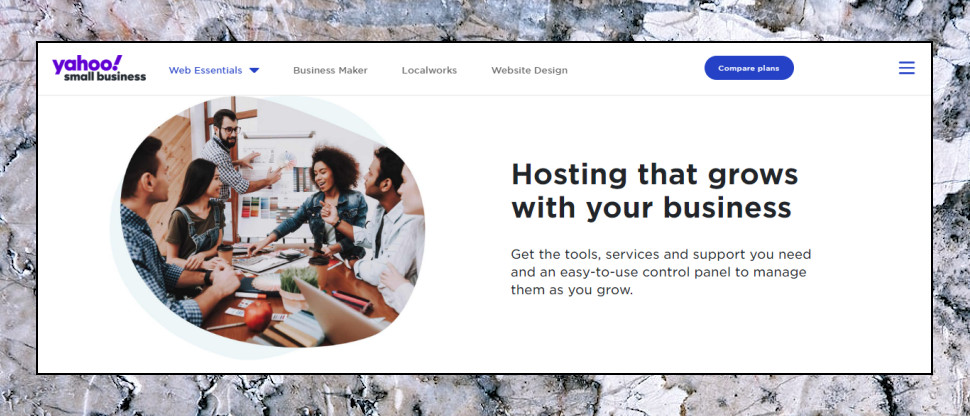 Bottom Line
Yahoo Small Business web hosting is a good option for businesses that just need to build a simple website. Their simple site builder tools can help businesses get online fast.
Coupled with a broad brand heritage, this convenience might make Yahoo Web Hosting a good choice for your business.