While every hotel can provide short-term paid lodging, the amount of offered comfort differs, which sets them apart. Hotels in prime locations can feel like a slice of heaven because of their "out of this world" amenities.
If you have an unlimited budget and want to travel in style, check out some of the most expensive hotels in the world. Discover the unique services and amenities these hotels offer below.
Lover's Deep Luxury Submarine, St. Lucia – $175,000/Night
For the most expensive hotel in the world, you'll have to travel to St. Lucia, a Caribbean island nation located in the eastern Caribbean Sea and on the Atlantic Ocean's boundary. If you're looking for a romantic night under the sea, there's no better place than a private submarine for you and your loved one.
Open-plan interiors allow you views of the ocean from nearly every angle. You may see everything from shipwrecks and coral to vast expanses of unpolluted water from your minibar, two-person bathroom, or welcoming double bed.
Private speedboat transfers are included as part of the hotel package. Additional services, such as helicopter transfers with beach landings, free rose petal scattering services, or champagne breakfasts in bed, can be added as desired.
Palms Casino Resort Empathy Suite, Las Vegas, Nevada – $100,000/Night
The Palms Casino Resort has opened its Empathy Suite, which features works of art by modern artist Damien Hirst, who also designed the suite. Nearly two hundred pounds of medical waste is hidden behind the glass bar in the Empathy Suite's lounge, which he called "Medical Waste."
This villa has everything you need for an unforgettable vacation with a master bedroom and bath on the second floor, two additional bedrooms, and a downstairs cinema room. Also included are a media room, a massage room, a salt room, and a fitness center in the two-story villa. It's part of a $690 million refurbishment of the entire resort.
Aside from the $10,000 resort credit, this suite includes 24-hour butler service, chauffeured car service, an art tour of the hotel and the suite, VIP access to the hotel's nightclub, Pearl Concert Theater, a recording studio, and a behind-the-scenes art tour.
Hotel President Wilson Royal Penthouse Suite, Genève, Switzerland – $80,000/Night
The 12-bedroom suite that occupies the entire eighth floor of the hotel is the Penthouse Suite. It has housed heads of state from Bill Clinton to Mikhail Gorbachev. A long list of celebrities and heads of state have stayed in the hotel's full-floor suite using the hotel's private elevators on the hotel's highest level.
Other amenities include a private fitness facility with Hermès bath products, a salon, a boardroom, and a guest security room. Brunswick billiards, a Steinway, a Bang & Olufsen, a rare-book library, and the only one of its kind in the world in a hotel room: a 103-inch screen, are just some of the many amenities accessible to guests.
Also included is the use of the private helipad, personal butler and chef, as well as an 18,000-square-foot patio with views of Lake Geneva and the Alps.
The Mark Penthouse, Manhattan, New York City – $75,000/Night
This New York City suite costs $75,000 a night and is in the heart of Manhattan's Upper East Side. The historic Mark Hotel has long been a favorite among New York's A-listers thanks to its discreetness, excellent service, and famous art-deco lobby. It offers panoramic vistas of Central Park and the Manhattan skyline.
The Mark Hotel's penthouse is North America's largest and most expensive hotel suite, measuring over 10,000 square feet. Among the many features of this mansion are five bedrooms—two of which are master suites—two baths, four fireplaces, two powder rooms, and an additional two wet bars.
A huge library lounge, a full-sized kitchen, and a living area with 26-foot ceilings and a grand piano are also included in the bi-level unit's amenities. The 2,500-square-foot outdoor terrace, a unique amenity in New York City, is the pièce de résistance.
Laucala Island Resort Hilltop Estate, Fiji – $61,142/Night
A David McLay Kidd-designed golf course, tennis facilities, a heavenly spa, and an abundance of activities await you on this private island in Fiji's Koro Sea. Laucala Island is the vacation home of Red Bull's owner, Dietrich Mateschitz, a beautiful, private island with a lot of greenery.
There are miles of private woodland, coconut groves, tumbling waterfalls, and pools (one with a glass edge). This Hilltop Estate state sits atop the beautiful hills, allowing guests to take in the breathtaking views of the jungle and azure waters.
Sago palms, doga timbers, and magi trees construct all structures. If you've ever dreamed of staying in your private beach house with two spacious guesthouses, an infinity pool, and a private airport to boot, you've come to the right place.
Four Seasons Hotel, Las Vegas, USA – $60,000/Night
You'd never guess the Four Seasons Hotel Las Vegas was housed beneath the gleaming gold towers of Mandalay Bay. A drive up to the Four Seasons' porte cochere, via fountains and beautiful gardens, contrasts Mandalay's taxis dropping off-drunk girls at bachelorette parties down below.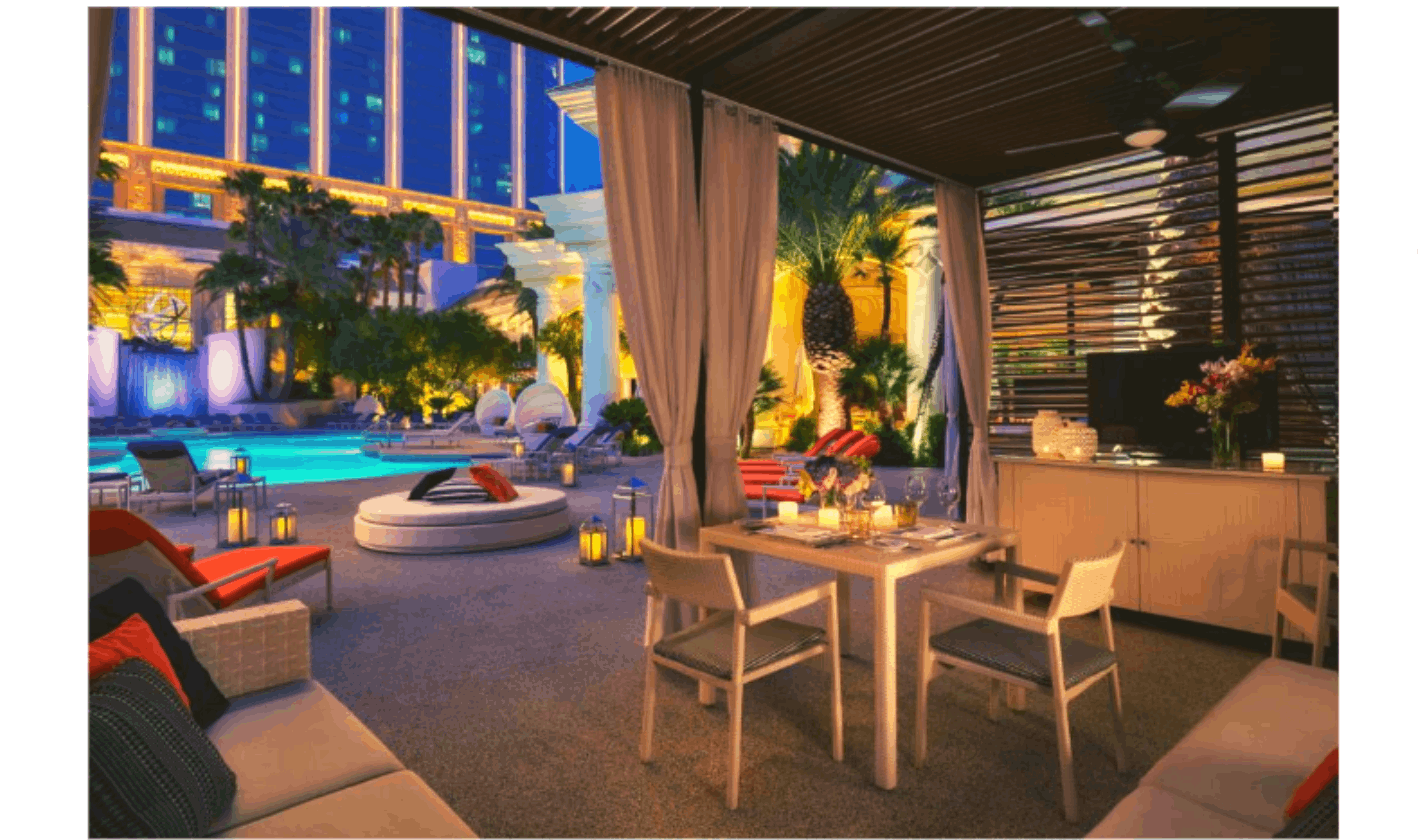 At the Four Seasons, elderly, well-heeled guests who want to avoid the normal Vegas atmosphere flock to this hotel. With its private elevator, visitors can easily access the casino, theaters, and over-the-top restaurants in the heart of Vegas, but it's also just a short walk away from the bustling city.
Like the rest of the hotel, the Four Seasons lobby exudes calmness. Wood paneled walls and multi-toned marble greet visitors. In the middle of the space, an abstract representation of the company's arboreal emblem serves as a unifying anchor. There are also endless mini-bar and floor-to-floor ceilings.
Grand Hyatt Cannes Hotel Martinez, Cannes, France – $53,000/Night
Hôtel Martinez, which opened in the late 1920s, represents the Côte d'Azur's joie de vivre. There's no better spot on the famous Croisette to see and be seen than here, with its inviting ambiance and infectious energy.
The Unbound Collection by Hyatt's Hotel Martinez—featuring a contemporary Art Deco design and a patio area—underwent a complete renovation in May 2018. The marble bathrooms in each hotel's air-conditioned room are a nice touch, as are the balconies that overlook the Mediterranean Sea.
The restaurant Le Jardin du Martinez, which opened in May of this year, has a terrace with seating under palm and cypress trees, and during nice weather, customers can attend garden parties. With its Teppan plancha grill and a live culinary show every night, the Martinez Bar honors the Hotel Martinez's rich history while offering an array of cocktails, gin, and tonics.
The Muraka Suite, The Conrad, Maldives – $50,000/Night
The Maldives is another place where rich and famous people like to go. So it makes sense that it has one of the most expensive hotels in the world. The Maruka Suite is different from other hotels because it is an underwater hotel. The building has two floors, and the first floor is about 16 feet below the Indian Ocean.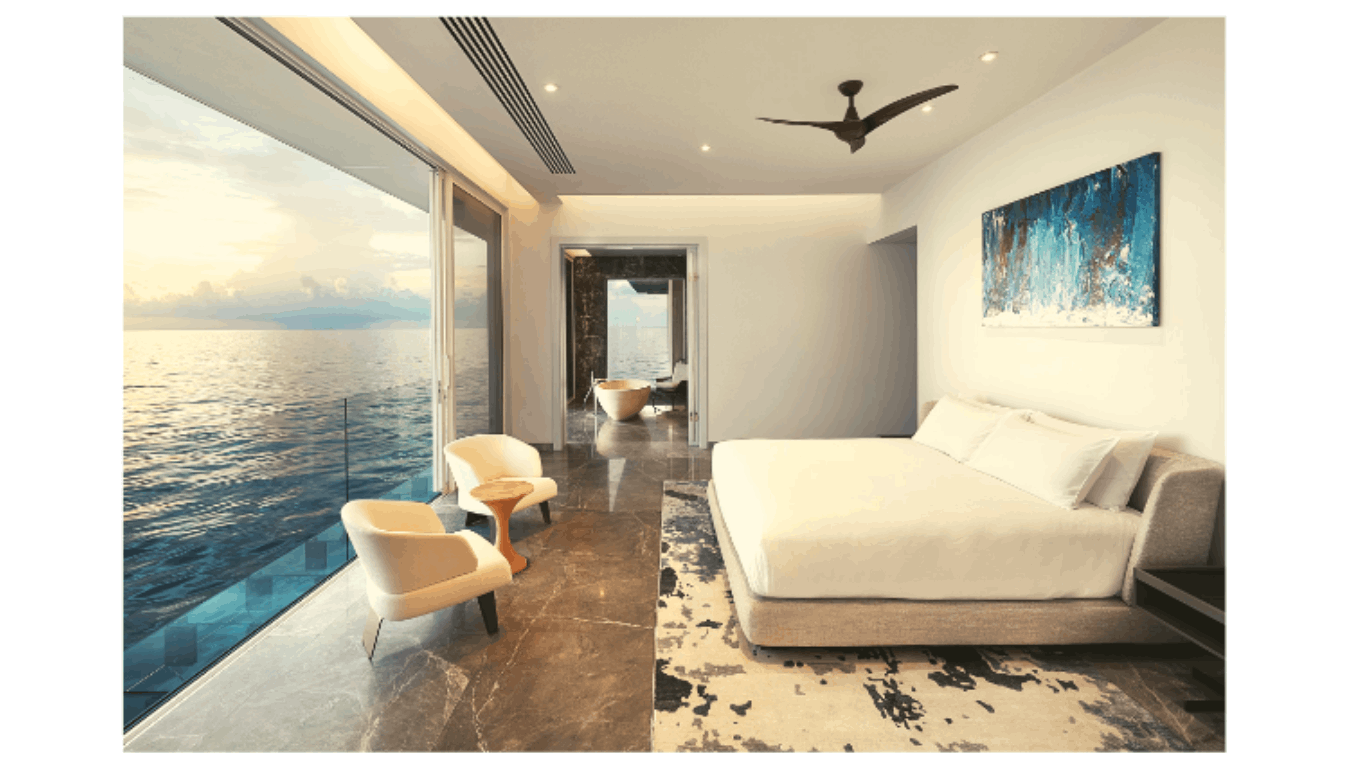 Above the water, enjoy living and dining in one of the world's most exclusive residences.  There are two bedrooms, a bathroom with a tub looking out over the ocean, and an outdoor deck with an infinity pool. There is also a private butler accessible 24/7.
Use the spiral staircase or elevator to get to your private underwater aquarium and an architectural masterpiece at the bottom. Enjoy the main bedroom with a 180-degree curved acrylic dome, floor-to-ceiling windows in the bathroom and walk-in closet, and a tunnel viewing theater.
The Hilltop Villa, Fiji – $45,000/Night
Luxury hillside property in a secluded setting with stunning views, a large infinity pool, tasteful Fijian furniture, and an expansive balcony ensures your every need is met. The ambiance throughout the suite is decidedly bohemian, with curved sofas sticking out from the walls and wooden chandeliers draped in Moroccan-inspired cushions.
With a four-acre home and three different suites, The Hilltop Villa on Laucala island in Fiji will make you feel like you're on your island. Relaxation comes to mind when picturing a getaway with a private pool in The Hilltop Villa.
Besides the pools and stunning views, visitors will have a private cook, a chauffeur, and a nanny to care for their children. These services are offered to ensure that everyone will have the best time relaxing in the resort.
The Plaza, New York, USA – $40,000/Night
For more than a century, The Plaza Hotel has been a New York landmark that has hosted world leaders, dignitaries, CEOs, Broadway stars, and Hollywood aristocracy. Guests worldwide have flocked to the castle on Central Park South to experience The Plaza's charm for more than a century as a go-to location for high society events.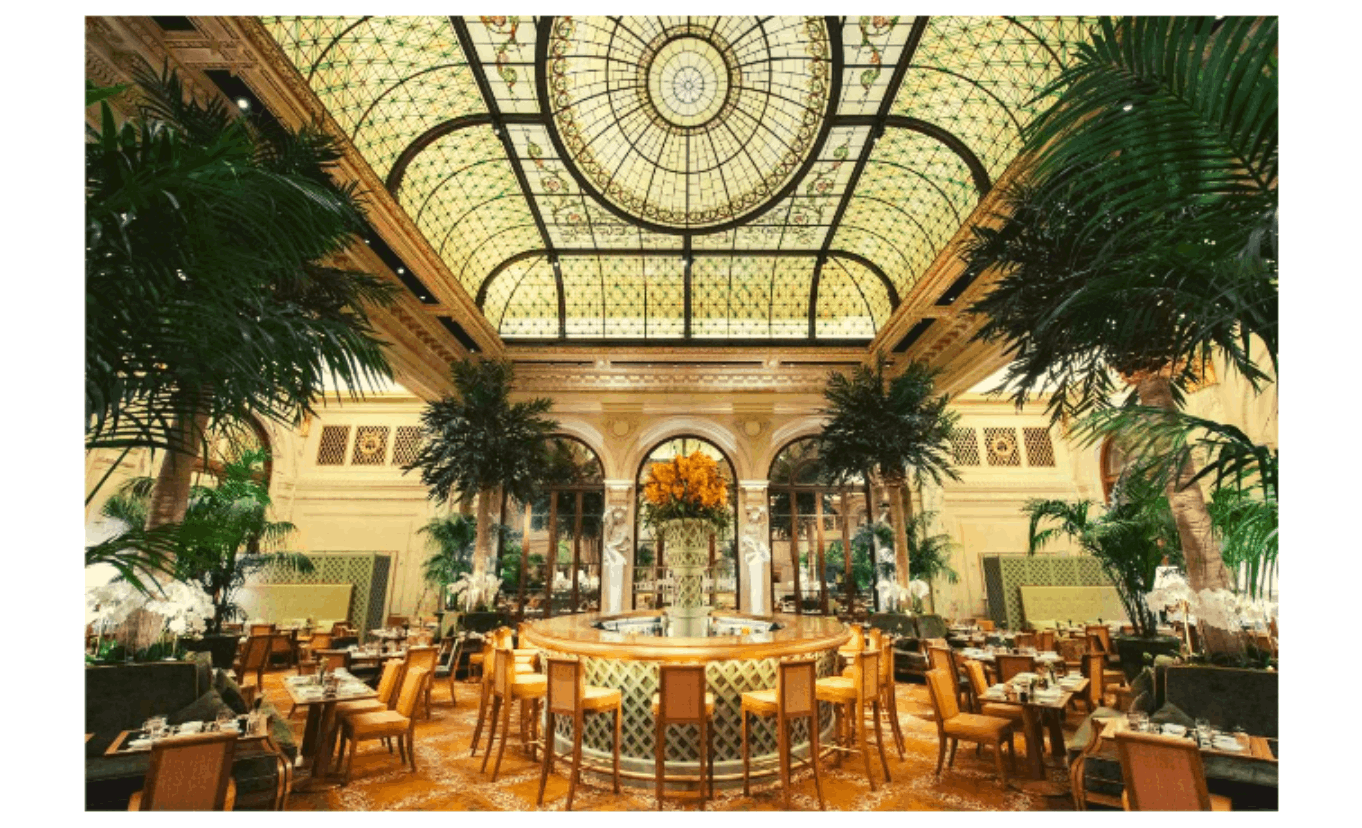 Elegant living at The Plaza continues to be defined by its prime location on Fifth Avenue, as well as its unparalleled service and constantly growing modern style. Grand Ballroom and Terrace Room have been painstakingly restored to their previous grandeur, allowing them to continue hosting some of New York City's most spectacular events.
Additional amenities at The Plaza include a world-class shopping experience at The Plaza Boutique and Eloise Pop-Up, as well as health and wellness facilities like Guerlain Spa, The Plaza Hotel Fitness Center, and Warren-Tricomi Salon.
Conclusion
Experience the most luxurious nights at some of the world's most expensive and unique hotels. Enjoy the best services on these hotel suites and villas.