Mi account unlock tool: Today is you see there are millions of users using Mi smartphones. All these mobiles run on MiUi OS respectively. When you have a look into, comes up with a lot of unique and advanced features and never compromised in delivering greater performance. If you are one of the Mi users, will definitely get aware of its process of the usage and other functionalities without any fail.
In the same way, in order to use there should be a mi account. Probably, when you think of purchasing Mi mobiles, will come across this for the further use. Keeping security issues in the mind, they introduced to sign up for a Mi account. Either a person might lose the mobile/ theft/, unfortunately, when the user performs a factory reset/ any, this mi account unlock tool greatly helps in.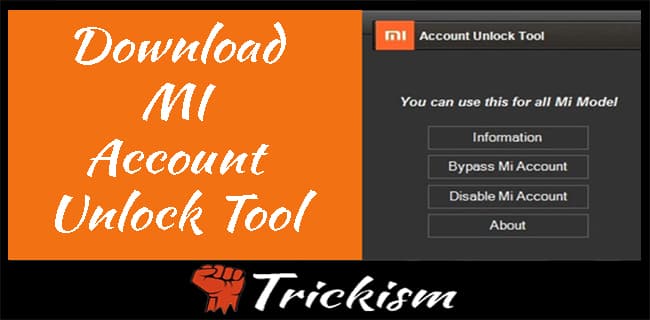 Also, one can greatly sync the files like photos, contacts, audio, video and other data to the Mi cloud service. This feature is greatly used when a man purchases the new Mi phone can get such data from old Mi phone in a very short time. Whatever might be, today we undergo the concept called mi account bypass tool provided here including the download link. Go through right immediately whoever is in need of learning it.
What is Mi Account Unlock Tool
As discussed, it is one of the most wonderful tools helps in removing the lock of all Mi smartphones. If the user has forgotten their password or lost need not worry anymore. The tool is here for resolving all such type of issues. remember one specific point as once the user reset the mobile, cannot enter the previous login credentials like user id and password respectively.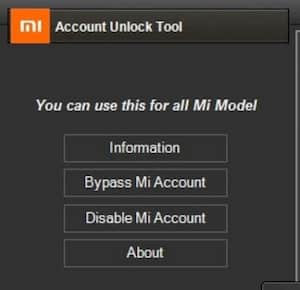 And this bypass method can be done for two ways. One is when you forgot the password, retrieving an account back. And the other is when the user failed to remember an exact id need to bypass the account or simply disable it.
Download Mi Account Unlock Tool Right Now
Mi account removal tool greatly helps in bypassing the cloud service without any fail. Whenever your mobile displays a notification called this device is associated with an existing Mi account, it is time to use Mi account unlock tool.
Also, if you lost or forgot either the mi cloud account password or user id, this tool is used for unlocking accordingly. And what not!!!! It is also used when the mobile went through the process called factory reset. So, therefore, in order to get rid of all such issues, one and only solution to download this amazing tool right now.
Mi Account Unlock Tool/ Mi Account Remove Tool Details
Name of the File: Mi Account Unlock Tool
File type: Rar file format
Supported by: Windows 7/8/8.1/10
File Size: 3.42MB
Steps to Download Mi Account Remove Tool/ Mi Account Unlock Tool
In order to get this wonderful tool, just simply follow the below instructions provided step by step. So that one can get and use it accordingly.
In the first step, Right click on the below link to get the software tool right immediately.
Mi Account Unlock Tool.rar File Download Here
Once after right click choose the destination folder for saving this particular software program.

Extract the files and run the MiAccountUnlock tool.exe file without any fail.
At last, follow all the on-screen instructions to finish the whole process and get the tool successfully. Once it is done, all set to use a Mi account unlock tool irrespective of time.
Related Articles:
How to Use Mi Account Unlock Tool

Till now we have seen how to download this particular tool. Now it is time for learning the process involved behind implementing this particular tool.
In the first step, switch off your mobile.
Now press and hold the volume up button and power button simultaneously.
Once after noticing a Mi logo on the screen, release the power button but not the volume up button. This all means the user has to still hold the volume up button without any fail.
Now choose the option called recovery mode and release the volume up button accordingly.
Thereafter do connect with your smartphone using an original USB cable. And then launch the Mi account unlock tool by running it as an administrator.
Tap on the information so that can notice whether the mobile is properly connected or not.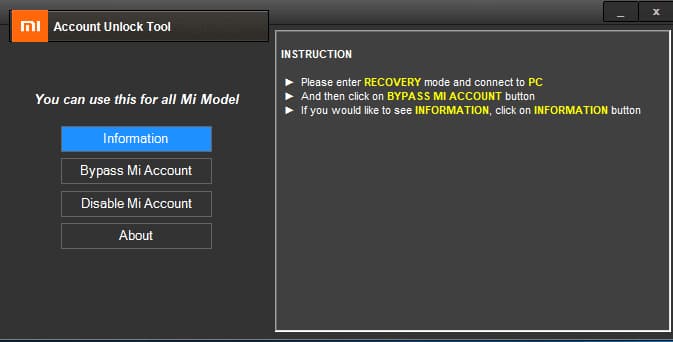 Now do click on the option called bypass mi account.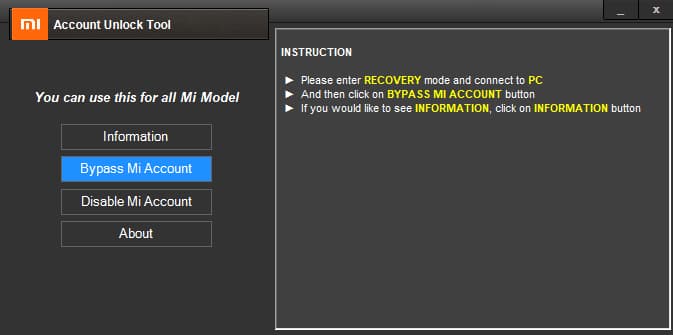 Once after the successful click, the mobile starts rebooting.
That's all!!!! As simple as that!!!!
Closure
Hope everything provided here is very clear. For any doubts or like to know additional information about mi account bypass tool, drop down a comment followed by a rectangular section given below. If you like this tutorial and feel useful, share it right now through any of the social networking sites for helping others. Thank you. Stay connected with trickism for more interesting tutorials.